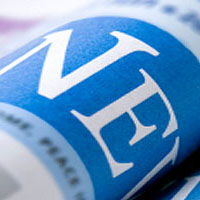 The sound of several voices harmonizing in song is a universal phenomenon and delight. Two professional ensembles hailing from Europe — Musicaficta from Italy and Koris Logo from Latvia — are touring America for the first time, performing at the state-of-the-art Castleton Theatre House, 664 Castleton View Road, on Saturday, June 25 at 4pm.
This "European Choir Fest" will present a program including ancient orthodox sacred music, classical polyphony, and modern works by such composers as Giovanni Pergolesi, Archangelski, Pablo Casals, and John Tavener.
Be prepared to hear the luscious sounds of the 16th century Renaissance as well as traditional folk songs. Ticket prices range from $20-$40. For more information or to purchase tickets, go to www.castletonfestival.org or call 540-937-3454.
"We're so pleased to welcome Musicaficta and Koris Logo to Castleton," says CEO and Artistic Director Dietlinde Turban Maazel, "and believe that the incomparable acoustics of the Theatre House will be equally thrilling to both the singers and the audience. These songs were meant to be sung here."
The 138-seat air-conditioned proscenium theatre has an orchestra pit and seating on the orchestra level and in the balcony. It is the more intimate of the two venues on Castleton Farms. Castleton in Performance has partnered with Classical Movements, one of the world's leading concert planning and music management companies, to bring these premier artists to the foothills of the rolling Blue Ridge Mountains.
This concert is part of Classical Movements  "2016 Serenade! Washington, DC Choral Festival".
The Italian choir, Musicaficta, was founded in 2001 by its present director Andrea Angelini. Mr. Angelini is a sought after Artistic Director and Guest Conductor, most notably the Artistic Director of the International Festival Voices from America and the Sound of the Organ held annually in Rimini each spring. Musicaficta is an ensemble featuring male and female voices.
Their set consists of mostly sacred music, such as Crux Fidelis arranged by Colin Mawby, O Vos Omnes arranged by Pablo Casals, but it also extends to pieces like "The Blue Bird," a poem by Mary Coleridge set to music by Charles Villiers Stanford. The Blue Bird is "a glorious miniature – a perfect fusion of words and music. [Stanford] creates an unbelievable atmosphere. Few other pieces of music have this feeling, this magic, this power to move. There is a combination of coolness and warmth, of sunlight and cloud." (John France, British Classical Music)
Male chamber ensemble Koris Logo traces the genesis of their group to the "Singing Revolution", which restored independence to Latvia in the late 80s, and a resurgence of popular interest in traditional sacred choir music. Leading the Latvian Culture Fund's Choir during the 90's, conductor and priest Ioanne Shenrock gave many performances in Latvia, Russia, Germany, and elsewhere in Europe, receiving recognition at international festivals and competitions.
In those days the most impressive achievement of the choir was definitely Apocalipsis, a monumental piece by contemporary Russian composer Vladimir Martinov and staged by the legendary founder and producer of Taganka Theatre in Moscow, Yury Lubimov (CD recorded in 1995), as well as the primacy at the International Festival of Orthodox Church Music in Hajnówka, 1997.
In November 2013, blessed by His Eminence Alexander, the choir reemerged as Koris Logos and consists of thirteen professional choir singers. The choir's first public debut was made at the liturgical church service in the Nativity of Christ Cathedral in Riga, the capital of Latvia. They will sing ancient and contemporary Orthodox compositions, as well as a few Latvian folks songs.
A list of overnight accommodations in the area can be found on the Castleton website. However, during the off season, there are also rooms available on the grounds. Cottage and home rates range from $100 to $650/night, and include access to world-class amenities, such as the spa (large heated lap pool, Turkish steam room, Finnish sauna), bowling alley, petting zoo, six miles of hiking trails and tennis courts.
To inquire about booking, please contact Connie Payne at 540.577.8820 or [email protected].