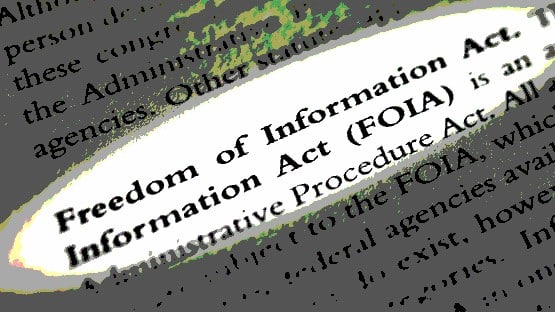 Augusta County appears, at the least, to be pushing the boundaries of what it can do under state law with its use of an outside counsel to argue its defense in the FOIA-denial appeal case brought by Augusta Free Press.
County Administrator Tim Fitzgerald, in a series of emails to AFP, defended the use of outside counsel, which he revealed is being paid for by a state liability insurance carrier.
"The matter was submitted to the county's liability insurance carrier and is a covered claim. As such, it is being handled through the claims process, and the insurance carrier is providing the defense. As in most cases, because the carrier is defending the matter, it selects the attorney," Fitzgerald wrote in an email to AFP, explaining the move that resulted in the employ of Rosalie Pemberton Fessier, an attorney with TimberlakeSmith, a firm based in Staunton, to represent the county in the case, in which we are requesting that the county turn over a copy of the recording of a March 20, 2023, closed session of the Board of Supervisors, which we contend includes discussions that should have been held in public session.
Workaround?
The county's decision to invoke a liability claim comes across as an effort by the county to find a workaround to having to use the county attorney, James R. Benkahla, to handle the county's defense in the case.
Benkahla, as the county attorney, is responsible, according to state code section 15.2-1542, for "defending or bringing actions in which the local government or any of its boards, departments or agencies, or officials or employees, thereof, shall be a party."
There's already a workaround in the state code to having Benkahla represent the county in court that wouldn't involve the county having to make a spurious liability claim.
State code section 15.2-1520 would allow the county to use "other counsel approved by the governing body," but that would require the Board of Supervisors to vote to give specific authorization to "other counsel."
Fitzgerald is claiming the board has met this legal requirement by voting to approve the county's participation in Division of Risk Management legal defense program, which is authorized in another state code section, 2.2-1839.
So, what is this Division of Risk Management, which I have to admit that I didn't know even existed until this week?
Peeling back yet another layer here, the Division of Risk Management, according to its webpage on Virginia.gov, "protects Virginia's state government, other public entities, and certain qualified individuals from financial loss caused by legal liability, loss to property, and other hazards."
"We fulfill this mission primarily through the establishment and administration of specialized risk management plans authorized by statute and approved by the Governor," the DRM webpage explainer tells us. "From medical malpractice coverage for public health care providers to property coverage for the Commonwealth's historic resources and fine arts, DRM protects a diverse range of exposures for state government, constitutional officers, local governments, Meals on Wheels organizations, free clinics, and others throughout Virginia."
How does any of this relate to the county defending itself against a petition for a writ of mandamus challenging the decision of a FOIA officer that denied access to a recording of a closed session of the Board of Supervisors?
"By statute, DRM provides liability protection to certain cities, towns, counties, authorities, boards, commissions, districts, and other political subdivisions," the webpage explainer tells us. "DRM will become involved in a claim against a participating entity only upon a direct request from that entity."
So, the county would have had to have made a claim that it is facing some sort of liability issue in our FOIA case.
Some background on the legal concept of writ of mandamus, which is what the state FOIA law spells out is the answer for citizens to use to challenge local and state government entities who have denied FOIA requests, would seem to be in order here.
A petition for a writ of mandamus is a request for a court to order a government official to "properly fulfill their official duties or correct an abuse of discretion," according to the legal definition from the law school at Cornell University.
That's it, a request for a court to compel government to act in accordance with the law.
Our petition for a writ of mandamus thus does not involve a request for monetary damages from the county; we're simply asking a judge to order the county to turn over the recording of the March 20, 2023, closed session of the Board of Supervisors.
The only possible financial exposure to the county here is spelled out in the state FOIA law, which puts governing bodies on the hook for attorney fees if a judge rules in favor of a plaintiff, and the imposition of a fine, if there is a finding of "willful and knowingly made" misconduct, of up to $2,000 that would be paid, not to the plaintiff, but to the State Literary Fund.
In our case, there would be no attorney fees, because I am representing myself in the matter that I am bringing, and I didn't allege in the case that the county has engaged in any kind of misconduct, but rather, has simply misinterpreted FOIA law in its response denying access to the closed session recording.
This is what government does
The sum effect of what the county is doing here should be obvious by this point.
The county already has a county attorney in its employ to defend itself in legal matters, but instead of using the $153,000-a-year salaried county attorney, the county got the state to buy into its claim that it is facing liability exposure from a basic FOIA writ to allow it to be able to put state taxpayer money behind the assignment of a local government law specialist.
They told you in eighth-grade civics a bunch of stuff about government being of the people, by the people, for the people, and that you have the right to petition government for a redress of grievances.
What they didn't tell you is when you try to get government to give you that hearing, the government will do everything it can, flouting the laws on the books, and using your own tax dollars against you, to make sure it doesn't lose.
I'm not harboring any illusion here that the county will ultimately turn over the recording of the March 20 closed session that seems pretty clearly to me and open government advocates who have read and written about it to have been conducted in violation of state law.
The deck was already stacked against us before the county went out of its way to try to run up the score.
This effort isn't about just shutting me up; it's to signal to the rest of you that you need to know your role.