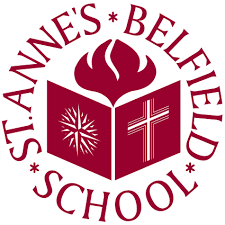 Area chefs involved in the creation of St. Anne's-Belfield School's French Food for Kids app lunched on campus today and enjoyed their own recipes in celebration of the successful app launch.
Ten chefs throughout the city were involved in the creation of the app, which was imagined by eighth grade French students at the School. It leads users through a mystery in which the main character, Joe, follows clues to an inheritance left to him by his Great Aunt Josephine, a successful chef. The clues are spread across city restaurants, and as they are unlocked interviews with the chefs and their recipes are revealed. The quest is designed to help children learn French words and expressions through food.
"We wanted students to see beyond the plate, to see the story behind it, the passion behind it," said Karine Boulle, Grades 5-8 French teacher.
Coded by the students using HTML, CSS, and JavaScript, the app is the result of many months of work which also included interviewing chefs in both French and English, writing and recording scripts, selecting appropriate photographs, designing the logo, and writing an app description with keywords. Kim Wilkens, Co-Coordinator of the Computer Science Initiative at the School, assisted with the technical aspects of the project.
Following a presentation of the app to assembled parents and chefs, the group enjoyed a lunch based on recipes for Moroccan meatballs from Aromas Café, butternut squash soup from Restaurant Pomme, coq au vin from C'ville Coffee, potatoes gratin from private chef Ashley Clarke, and cookies from Paradox Pastry. The celebration ended with a Breton apple cake baked by the students themselves.
"What these St. Anne's-Belfield School kids have done is very creative and engaging," commented Toan Nguyen of C'ville Coffee. "It was a pleasure to work with them."
Other chefs in attendance included Hassan Kaisoum of Aromas Café, Maryvonne and Gerard Gasparini of Restaurant Pomme, and Patrick Evans and Jason Becton of MarieBette Café and Bakery.
"French Food for Kids" is available to download free of charge for iPads.