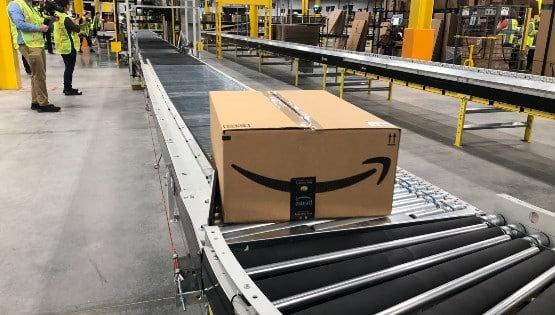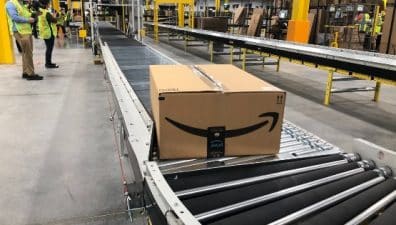 Amazon CHO1's ribbon cutting on Wednesday was a celebration.
"CHO1 is open for business," said General Manager Irfaan Hafeez.
Amazon's fulfillment center in Fishersville is a traditional, non-sorting facility that opened April 30, 2023. Facilities are named after the nearest airport. In Fishersville's case, CHO1 corresponds with Charlottesville's airport. The center is 1 million square feet and could hold 15 football fields inside.
The first item packed on the first day weas a 3-pack 8-pound bag of Epson salt.
Hafeez said that employees "are the backbone of this organization" with a starting wage of more than $16 per hour and benefits.
"This is a vibrant community and we're really excited to be a part of this area and help with economic development," Hafeez said. He has managed Amazon sites in New York, the Middle East and Florida.
"I'm hoping that we have a really positive and long-lasting impact in this community," Hafeez said.
According to Dean Fullerton, Amazon's Vice President Global Engineering and Security Services, the company has 36,000 employees in Virginia.
"Amazon is proud to call Virginia home," Fullerton said.
Sixty percent of products come from small and medium-sized businesses.
"We look forward to growing in this region," Fullerton said.
Augusta County Administrator Tim Fitzgerald said he doesn't think the county has seen such a fast, efficient and smooth construction operation, even with a potential tornado having twisted through the site.
"In some ways, it feels like this day has been a long time coming," Fitzgerald said.
Construction of the fulfillment center in Fishersville was completed in approximately 18 months. Fitzgerald said Fishersville is one of the highest growth areas in the county.
"Success for one shares success for all," Fitzgerald said.
In Augusta County, business supports business, and that is why the county is a great place to work.
"Your support in getting us here today is unwavering," Holly Sullivan, Amazon Vice President of Worldwide Economic Development and Public Policy, said. "And, we're going to continue to need that support as we hire and grow here in the Commonwealth."
Amazon empowers employees with education in its Career Choice program, which is partnering with Blue Ridge Community College and James Madison University.
"This is a key part of being an Amazonian. We want to always invest in our employees not only today but tomorrow, and make sure we're continuing to invest in their career path," Sullivan said.