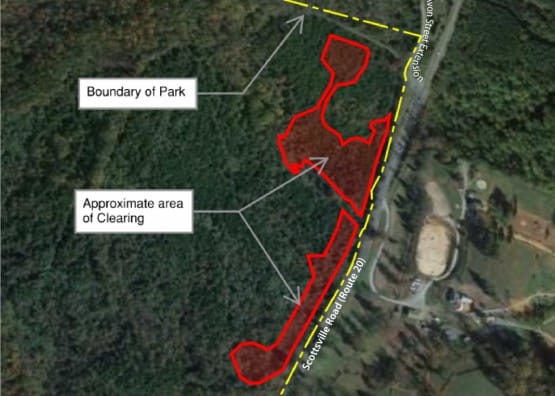 Albemarle County is beginning the first phase of development at the 1,200-acre Biscuit Run Park, as illustrated by the Biscuit Run Park Master Plan adopted by the county in 2019.
The initial phase of park development includes the installation of the eastern park entrance from Route 20, a trailhead with 75 parking spaces, and bathroom facilities.
Additional work on the entrance and trailhead will continue through the remainder of the year as the county works towards opening this park to the public in the late fall of 2023.
Click here to learn more about the history and planned development of this new regional park.
To prepare for the construction of these park improvements and amenities, Albemarle County will begin clearing approximately 7 ½ acres of land on Wednesday, March 8. This work is expected to be completed by Saturday, April 1.
During the week of March 13, intermittent lane closures and flagging will be in place along Route 20 between 9 a.m. and 3 p.m. each day. Please slow down and give crews space to work as you drive through the work zone.