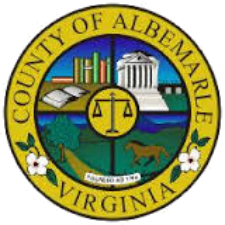 Larry Davis is announcing his retirement as County Attorney for Albemarle County effective June 1, 2016, bringing to a close over 22 years of service with the County and a total of 35 years of public service in local government.
Davis joined the County in January, 1994, establishing Albemarle's first in-house County Attorney's Office. Previously Davis served as the County Attorney for Spotsylvania County, as an Assistant County Attorney for James City County, and as an Assistant Commonwealth's Attorney for the City of Portsmouth, and was in private practice as an associate attorney for Harlan, Knight, Dudley and Pincus, Norfolk, Virginia.
During his tenure with the County, Davis has overseen complex and significant legal issues related to a growing and urbanizing community in all areas of local government, including land use and development, intergovernmental relations, public safety, human services, financial management, and schools.
"During his time as our County Attorney, Larry has been a principled and dedicated leader who has earned the trust and respect of citizens, community partners and his County staff colleagues by acting with integrity and having a complete focus on the best interests of our community," said County Executive Tom Foley.  "He has been a strong champion for the County's vision and mission, and his influence has gone well beyond the legal realm. He will be very sorely missed."
Davis received his B. A. in Business Administration from Michigan State University and his Doctor of Jurisprudence from the Marshall-Wythe School of Law at the College of William and Mary. He is a former President of the Local Government Attorney's, Inc., a former Chair of the Local Government Section Board of Directors of the Virginia State Bar, and currently is a member of the Harry L. Carrico Professionalism Course Faculty. He has received a number of professional recognitions, most recently being named the Recipient of the 2014 Edward J. Finnegan Distinguished Service Award by the Local Government Attorneys of Virginia, Inc. and being selected as a Fellow of the Virginia Law Foundation Fellows Class of 2016 by the Virginia Law Foundation.