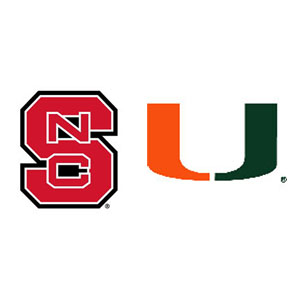 #7 seed NC State finished on a 16-5 run in the final 3:52 to put away #10 seed Miami, 67-58, in the second round of the ACC Tournament on Thursday.
State (20-12, 10-9 ACC) trailed 53-51 before tying the game on a pair of free throws by Ralston Turner. After a Miami miss and an NCSU timeout, the Pack fed the ball into the post to ACC Player of the Year TJ Warren, who scored from the right block to give State a 55-53 lead with 2:23 to go.
The big blow came after another Miami miss. Turner hit a three from the left wing with 1:46 to go to extend the lead to five at 58-53.
The Wolfpack closed out the game hitting five of its eight free-throw attempts in the final 1:11.
NC State opened the game on a 10-2 run in the first 4:24 before Miami clamped down on defense to get back into the game, trailing 26-22 at the half.
NC State led by as many as eight points in the second half before Miami rallied to lead 53-51 with 3:52 to go on a three-pointer by Davon Reed.
The Hurricanes (17-16, 8-12 ACC) would not score again until the 22-second mark on a jumper by Rion Brown with the outcome already having been decided.
Miami got 22 points from Brown. The 'Canes shot 54.2 percent from the field in the second half, but missed six of their last eight from the field. \
Warren had 24 points and eight rebounds for NC State, which advances to Friday's ACC Tournament quarterfinals against #2 seed Syracuse (27-4, 14-4 ACC).