NFL
Harbaugh: Ravens young secondary needs to 'grow up fast' after Tua's six-TD game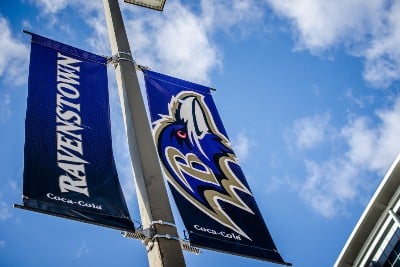 Baltimore had three rookies in the secondary on the field for the bulk of the fourth quarter last week, and Miami QB Tua Tagovailoa torched the kids – rallying the Dolphins from a 35-14 deficit with four TD passes in a 42-38 win.
Tagovailoa connected with wideout Tyreek Hill on two long TD passes, one for 48 yards, the other for 60, both of which were the result, coach John Harbaugh said, of "blown coverages, basically."
The 48-yarder had Hill get a step on cornerback Marcus Peters, and rookie safety Kyle Hamilton was too late coming over to break up the play.
"You have to stay on top of that as a corner. You have to stay on top of that as a safety," Harbaugh said. "It's three-deep coverage. Those guys know that."
The 60-yarder was a breakdown from the start. Hill ran past rookie cornerback Jalyn Armour-Davis, who expected defensive help that never arrived.
"We didn't have anybody in the deep half," Harbaugh said. "That was a miscommunication, if you want to call it that, and the deep-half player didn't realize he was a deep-half player, and he needs to get back there."
Armour-Davis, a fourth-round pick from Alabama, was on the field for 24 pass-coverage snaps, and allowed five receptions on six targets for 69 yards and a TD, and a 154.2 passer rating, according to data from Pro Football Focus.
Hamilton, a first-round pick out of Notre Dame, was on the field for 27 pass-coverage snaps, allowing one reception on two targets, a 14-yard TD catch by Mike Gesicki in the third quarter, and a 112.5 passer rating.
One other rookie, cornerback Pepe Williams, a fourth-rounder from Houston, was on for 32 pass-coverage snaps, allowing six catches on 10 targets for 42 yards, two TDs and a 109.2 passer rating.
The Ravens were missing Brandon Stephens (quad) on Sunday, and Peters was on a strict snap count in his first game back from a 2021 knee injury.
Kyle Fuller was lost for the season in Week 1.
"Certain guys have got to grow up fast. They're young guys, they're rookies, they're playing for the first time," Harbaugh said. "They know that, I'm sure they took responsibility for it, the coaches take responsibility for it, we've all got to take responsibility for it.
"Those are things that should never happen. They're below the line. I did not expect those things to happen in this game. But, I also understand you've got some young guys back there. Things are moving fast and the game's on the line. That can happen.
"We like those guys, we trust those guys, they're going to learn from those mistakes. Sometimes lessons are learned the hard way."