East Rockingham Senior Center Hosted Musical Trio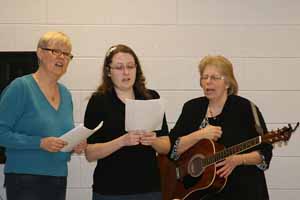 East Rockingham Senior Center hosted Cynthia, Erin and Gail, who offered nearly an hour long inspirational musical performance for 20 members and several volunteers on February 6.
This was a first time performance for the ladies, two of whom are from Elkton and one being from Broadway, but it didn't take the performers long to have everyone singing along to many familiar hymns.
The members were happy that two of the ladies were able to stay and enjoy lunch, and all were invited back for a repeat performance!
More online at www.EastRockinghamSeniorCenter.org.

Comments