Tides to play as Norfolk Squeezers on July 16th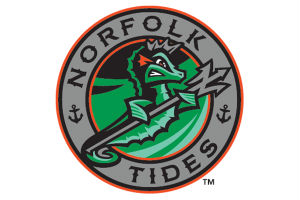 That night will also feature postgame fireworks after the 6:35 game vs. Worcester Red Sox, presented by Back Bay's Farmhouse Brewing Company and Atlantic Bay Mortgage.
"We're really excited to introduce this unique team identity at Harbor Park" said Tides General Manager Joe Gregory. "Whether you live here or are visiting, no matter where you go, you will see an Orange Crush on the menu. When you think of summer in Hampton Roads, you think of baseball and enjoying an Orange Crush. Putting the two together is a natural fit."
The Orange Crush first came to Hampton Roads in 2004 when a local restaurant owner returned home from a trip to Maryland, bringing with him a reformulated version for Virginia. Nearly twenty years later, the drink can be found on nearly every restaurant menu on the oceanfront and on the bay. Over the years, countless different flavors of the crush have been added throughout the region.
The drink is so popular that Back Bay's Farmhouse Brewing Company created an IPA inspired by the legendary Virginia Beach Orange Crush cocktail. The Orange Crush IPA is brewed with loads of sweet orange peel, creating a refreshing orange and vanilla bean aroma. Back Bay's Farmhouse brewing says of the beer, "wherever you are, be prepared to taste the most crushable IPA out there!" That wherever can be at Harbor Park, as the Orange Crush IPA is available on tap for every game at Harbor Park. The original cocktail version can also be enjoyed at Harbor Park.
A specialty NewEra cap has been created for the night. The orange cap with a green brim, features the logo of an orange wearing a green baseball cap and wielding a baseball bat crushing a block of ice. The customized jersey features the Norfolk Squeezers word mark, juice press logo and the ready to enjoy logo on the left sleeve.
Limited-edition custom merchandise is also available, including the 59fifty New Era cap, adjustable caps and t-shirts. All of the Norfolk Squeezers merchandise can be found at Tides.milbstore.com and will be available for purchase, while supplies last, at the Tides Team Store the remainder of this week (Monday – Friday 10 am to 4 pm) and during the upcoming homestand starting Tuesday, July 12th.