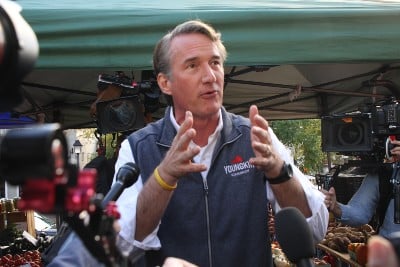 Gov. Glenn Youngkin is saying that Fairfax County "better get its act together soon" to address a manpower shortage in its local police department, but Fairfax County is hardly alone among Virginia communities having trouble hiring cops.
We wrote last week about how Waynesboro is down 10 officers, roughly 20 percent of its budgeted capacity, with additional shortages in office positions.
And just yesterday, Youngkin took part in the rollout of a state initiative to assist Petersburg, where the police department is down more than half its workforce.
The manpower shortage in Fairfax County, in the range of 150 to 200 officers, would come out to between 11 and 14 percent of the workforce.
Fairfax County Police Chief Kevin Davis declared a personnel emergency last month, meaning that starting at the end of the month, officers will be required to work longer shifts and different hours.
Youngkin is blaming the manpower shortage in Fairfax on politics.
"What happened during the last administration during the pandemic was law enforcement was demeaned, they were demoralized, and candidly, they saw their resources bleeding away," Youngkin said. "And so, this crisis is not new. The fact that Fairfax County is seeing such a depletion of law enforcement heroes also reflects a Commonwealth's attorney that refuses to prosecute cases when people are arrested. Could there be anything more demoralizing for law enforcement heroes? And so, Fairfax County has to get it together."
A slideshow for the Partnership for Petersburg initiative singled out a different issue with the Commonwealth's attorney office there – that local prosecutors were swamped by an overload of cases, an issue that we're hearing is also the case in Waynesboro, leading to frustrations for officers in both localities.
Low pay is the bigger issue with hiring and retention of police officers in Waynesboro, as our reporting from staff writer Rebecca Barnabi detailed last week.
And this is an issue statewide and nationwide. And Waynesboro Police Chief David Shaw said the intense competition among police departments to attract the declining number of people interested in pursuing a career in law enforcement is made tougher by budget realities.
"I think it's just a combination of a perfect storm," Shaw said.
Youngkin touted his administration's efforts to increase funding for state police, sheriff's deputies and correctional officers, but local governments are constrained by local budgetary pressures in terms of what they can do for their police departments.
It's looking like the governor and the General Assembly will need to address that issue next year, and it's not even a guarantee that better pay will solve the problem.
The overriding political environment – with some on the left pushing to "defund the police," and some on the right pushing to "defund the FBI" – doesn't help, either.
And Youngkin is actually part of the problem there.
After the FBI executed a search warrant on former president Donald Trump's Mar-a-Lago golf club as part of an investigation that led to the recovery of more than 150 classified documents on Aug. 8, the governor termed the event "a stunning move," and said "selective, politically motivated actions have no place in our democracy."
If the problem with manpower shortages in police departments in Virginia is that the last administration, according to Youngkin, "demeaned" and "demoralized" law enforcement, Youngkin's response to the FBI investigation into Trump, akin to "here, hold my beer," isn't helping.