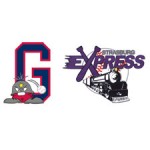 Waynesboro tied a wild game at Strasburg with a pair of runs in the top of the sixth, but the Express got a run in its half of the sixth on an RBI single by Anthony Payne, added some insurance in the seventh on an RBI double by Jay Lizanich, and defeated the Generals, 9-7, Friday night.
All four pitchers for Waynesboro were touched for earned runs by Strasburg, with starter Marcus Shippey giving up four runs on seven hits in just three innings, Joe Marotta giving up three runs on four hits in two innings, and Will Lowman and Micah Gorman each giving up a run, Lowman in an inning of work and Gorman in two innings on the mound.
Lowman (0-2) took the loss for Waynesboro, which drops to 14-7 and into a second-place tie with the Harrisonburg Turks, who have won eight of their last 10 after posting a 4-3 win at Staunton Friday night.
Waynesboro hosts Harrisonburg Saturday night at Kate Collins Field. First pitch is scheduled for 7 p.m.
More online at www.WaynesboroGenerals.net.