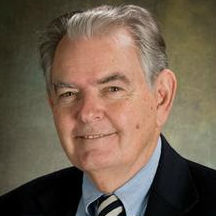 The Wayne Theatre Alliance Board of Directors announced its recognition of Dr. Clair Myers by naming him Executive Director Emeritus. This recognition is a tribute as the restored theatre opens in March.
Bill Hausrath, Chairman of the Alliance, said, "Dr. Myers has been the point person over the last 10 years in guiding the organization to this point. He has shaped decisions about how the Wayne was rebuilt and how it will operate in the future. It has sometimes been a challenge to keep the momentum and his unfailing professionalism and hard work have gotten us to opening. We couldn't have done it without him."
Before joining the Alliance as its first executive director, Dr. Myers spent 34 years in higher education as a professor of theatre and an administrator. He retired as Dean of Arts and Humanities and Vice President for Planning at Elon University in North Carolina in 1996.
According to Dr. Gerald Francis, Elon's Provost Emeritus, "Clair Myers made a difference. As dean he was not only a leader, but a creator and a visionary who contributed greatly to Elon University's break- through to the national spotlight. His contributions to the university's academic program and his creation of Elon's Music Theatre program continue to be national recognized. He was a significant leader, a wonderful colleague and a good friend."
Following retirement from Elon, Myers continued to serve as a consultant for the Southern Association of Colleges and Universities and the North Carolina University System. He also turned to his theatre training and free lanced as a professional actor, director and stage manager. He joined the Board of Directors of Pennsylvania's non-profit professional Theatre, Open Stage of Harrisburg in 1996 and later became the Associate Director.
Marianne Fischer, one of the founders of the Open Stage of Harrisburg remarked, "We remember Clair's passion for theatre and sharing it with our board, audiences and emerging local playwrights.  He was Open Stage's first development office and was tasked with directing the first Board of Director's Challenge program. He also produced the works of local playwrights in the Sunday at Seven series and found the funding for our annual production of Diary of Anne Frank. Open Stage thanks Clair for his years of service."
When Myers moved to Waynesboro with his wife, Dr. Dorcas Lohr, he was appointed to the City's Cultural Commission and through it became aware of and active with the Wayne Theatre Alliance.
During his ten years as Executive Director, Dr. Myers was actively involved in the efforts to design and fund the renovations of the 1926 Wayne Theatre. During his early days with the Alliance, he created The River City Radio Hour which has been an entertainment staple in the community since 2007. In August 2011, Dr. Myers produced three seasons of weekly entertainment at WTA's Gateway. The variety of uses for the Gateway ultimately led to the redesign of the Wayne Project.  When the Wayne Theatre/Ross Performing Arts Center opens in March 2016, it will not only have a fully furnished intimate auditorium, but also a lecture hall, the Custin Cabaret and the Lowdermilk Events Room.
"I have been fortunate," said Myers, "to have been involved in a project that called upon all of my past training and experience. I like to think the Ross Center is the capstone of my career. I am grateful to have been allowed to participate."
Gayle Mapstone, WTA board member, noted that "Dr. Myers has a unique set of skills and experience. His focused dedication and unwavering commitment to the restoration of our city's historical theatre has led us all to this significant achievement. Both the WTA and the City of Waynesboro are the recipients of his expertise, experience, and energy. He gave us a dream and inspired us to see it as a reality. And now it is."
Hausrath further added, "Clair has served the organization and the community in many ways. He has chaired the Cultural Commission, been an advocate for tourism, and edited histories on Basic City, Swananoa, Native Americans in the Shenandoah Valley, and the South River."
Myers will continue to work for the Alliance in the areas of development and grant writing, as well as hosting the River City Radio Hour, and leading other artistic developments.
For more information on the Wayne Theatre/Ross Performing Arts Center, visit www.waynetheatre.org