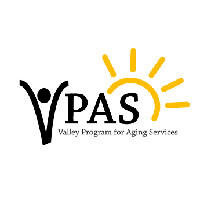 Valley Program for Aging Services will be able to expand its Meals on Wheels program, thanks to the generosity of the Walmart Foundation. At a May 18 ceremony, Walmart Market Managers Jade White and George Joyner presented VPAS executive director Jeri Schaff with a $25,000 grant to support Meals on Wheels in the organization's five county, five city service area.
"Meals on Wheels is a critical support for older homebound adults, and demand is increasing steadily," Schaff noted. "It's about so much more than providing nutritious food. A daily visit from a friendly volunteer relieves feelings of isolation, and our Case Managers often find that people have other unmet needs that threaten their ability to live independently. Meals on Wheels is really a gateway opportunity to help older people get the services they need," she continued.
"Walmart and the Walmart Foundation are proud to support Valley Program for Aging Services and their Meals on Wheels program," said Brooke Muller, Director of Government Relations and Public Affairs, Walmart. "This program is essential to providing support and nutritious meals to homebound seniors and allowing them to maintain their independence."
VPAS delivered 113,518 meals to homebound older adults in its last fiscal year. A recent satisfaction survey revealed that 98.45% of respondents felt that Meals on Wheels helped them live independently at home.
"Our volunteers, staff, and especially the people we serve are indebted to the Walmart Foundation for their generous and much-needed support," Schaff said. "It is only through this kind of community investment that VPAS can continue to help older people live independently, with safety, dignity and choice."
More information about the Meals on Wheels program, and about opportunities to contribute as a Meals on Wheels volunteer, can be obtained by calling VPAS at 540-949-7141 or 800-868-8727, or by emailing Pam Bennett at [email protected].