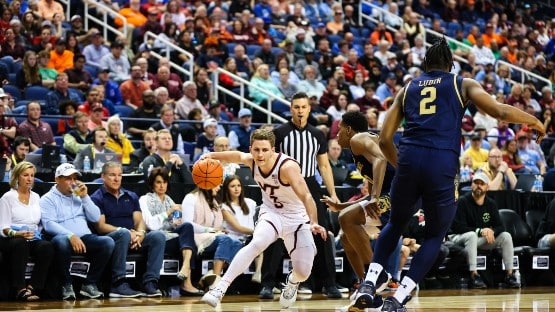 Virginia Tech kept its slim NCAA Tournament hopes alive, rallying from five down in the final 5:35 to beat Notre Dame, 67-64, in the first round of the 2023 ACC Tournament on Tuesday.
Tech (19-13) trailed 58-53 after a Cormac Ryan three with 5:35 remaining. A Grant Basile and-one, another Basile layup and a Rodney Rice three got the deficit to one, at 62-61, with 1:53 left.
A steal by Sean Pedulla led to a fast-break bucket by Justyn Mutts that put the Hokies on top with a minute on the clock.
Then came the controversial play of the first day at the tournament.
After a Notre Dame timeout, the Irish (11-21) tried to run action to free up Matt Zona on the baseline, but Zona got caught up with Pedulla on a switch, and both fell to the floor.
A foul was assessed on Pedulla, but Tech coach Mike Young insisted on a replay review, and the officials, after a lengthy discussion amongst themselves, decided to add a deadball technical on Zona, which was his fifth foul of the night.
Trey Wertz stepped in and made the two free throws for Notre Dame to give the Irish a brief lead, but Pedulla made the front end of the technical to tie the game with 42 ticks left.
On the ensuing possession, Mutts was left alone on the baseline for a dunk that put Virginia Tech on top, 66-64, with 30 seconds to go.
Ryan, on Notre Dame's next time down the court, was able to get into the lane one-on-one on Mutts, but Mutts recovered and blocked the shot at the rim and grabbed the rebound.
Pedulla made 1-of-2 at the line to extend the lead to three.
Notre Dame had two chances to tie it in the final three seconds, including a good look for senior Nate Laszewski at the buzzer that rimmed out.
Basile had 20 points to lead Tech, which got 18 points and 13 rebounds from Mutts.
Marcus Hammond had a game-high 23 points for Notre Dame.
Virginia Tech survives to play NC State (22-9) at 9:30 p.m. Wednesday.