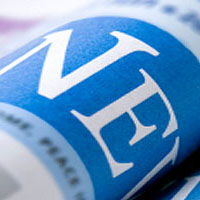 Two Virginia Tech electrical and computer engineering faculty members are the lead investigators on a $1.37 million, international research project that may lead to higher performance for wireless networks in densely populated venues including arenas, theaters, and transportation hubs.
Allen B. MacKenzie, associate professor of electrical and computer engineering is the principal investigator on this cooperative effort with scientists from Ireland and the United Kingdom. Walid Saad, an assistant professor of electrical and computer engineering serves as co-principal investigator. Their research will focus on the design and deployment of wireless networks that operate at millimeter-wave frequencies to support dense, high-capacity networks.
Millimeter-wave frequencies, ranging from 30 to 300 gigahertz, offer significant advantages — including enormous bandwidth and low interference — that make them ideal for situations in which there is a high network capacity demand. They actually provide room for expansion in the frequency spectrum, the prime real estate of wireless communications.
When thousands of individuals gather and try to use wireless devices, traditional wireless networks can fall short in meeting user requirements. But designing networks to exploit millimeter-wave opportunities (NEMOs) can help keep up with the demand.
Actually implementing such networks requires developing methods for working around the many limitations of millimeter-wave frequencies: They suffer high attenuation and are easily blocked by everyday materials and people's bodies. Directional antennas are often used to compensate for these shortcomings, but this directionality creates additional challenges in protocol design.
This research will advance the study of the impact of millimeter-wave technology, which operates in previously underutilized portions of the radio spectrum, to improve the performance of wireless networks.
Much of the current research into applications of millimeter-wave technology has focused on using an architecture based on massive MIMO (multiple input-multiple output). But given the high cost and power consumption of the multiple high-resolution analog-to-digital converters that this approach would likely require, MacKenzie and Saad are instead focusing their research on the creation of NEMOs using ceiling-mounted, fixed directional antennas combined with smaller arrays of antennas.
The proposed architecture will utilize networks of small-cell base stations combined with dense deployments of millimeter-wave access points. Resource management will be coordinated between the two, which are connected over a wired network.
This project will lead to the development of architecture concepts and network planning and deployment approaches that will enable successful communications via high-capacity, short-duration links to enhance conventional and small-cell networks.
The models and network simulations developed as a result of the research will lead to real-world deployment of millimeter-wave networks, and the research will facilitate international educational experiences for graduate students.
"The millimeter wave spectrum is a vital component of the next-generation of wireless standards, which are being called '5G,' and we at the National Science Foundation have been funding extensive fundamental research in this area over the past three years," said Thyaga Nandagopal, National Science Foundation program officer for networking technology and systems.
MacKenzie and Saad will collaborate with researchers at Trinity College of Dublin and Queen's University of Belfast as part of the U.S.-Ireland research and Development Partnership Program. Funding will come from the National Science Foundation for the Virginia Tech portion of the research, which totals $499,293. Science Foundation Ireland will fund Trinity College's contribution, and the Department for Employment and Learning Northern Ireland and Invest Northern Ireland will fund the work by Queen's University.
"The international partnership is an example of the collaboration fostered by shared research goals between the United States and Ireland," said Nandagopal.