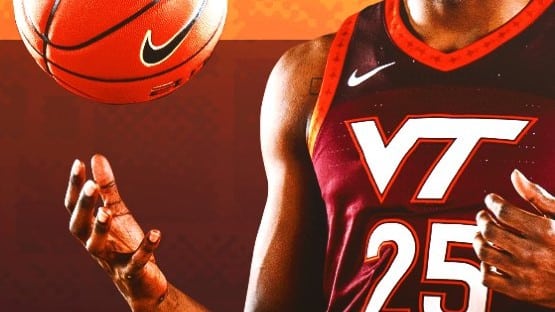 The Virginia Tech men's basketball team is reeling, but there is no doubt that optimism remains.
The Hokies may not be in contention to make the NCAA Tournament when it is all said and done, as repeating last year's run to the ACC Tournament is highly unlikely, but there are a lot of reasons to believe that this team in a funk can continue to fight and come out winning.
A 73-69 loss on Saturday night to NC State in Blacksburg saw Tech drop to 1-4 in the ACC, losing their fourth game in a row. The Wolfpack, 13-4 overall, were the underdogs but no pushovers, having crushed Duke by 24 on Wednesday.
But this loss was just another growing trend of Tech starting slow and not being able to deliver late. The time in between has been somewhat decent, but the Hokies continue to miss the injured Hunter Cattoor as they play themselves out of an NCAA Tournament bid.
"They're good," Tech head coach Mike Young said of N.C. State.  "We just couldn't catch a break when we needed it most. Down three, I think it was down to two at one point. One big stop, one big rebound. We had a couple rebounds go to the Wolfpack. I need something good to happen and it didn't when we came down the stretch tonight."
Another slow start saw Tech down 11 points just three minutes into the game. Kevin Keatts' team took a 14-point lead into the break, and while Tech's offense came to life in the second half, it was too late.
"We had two or three deflections in the first half which is unconscionable," Young said. "We had that many in the first four minutes of the second half. Just much more aggressive. We fought. We were the aggressive team in the second half. Haven't said that many times in my time here that they were just that much more aggressive than we were in that first half."
Tech went just 5-for-18 from threes. Tech had a better field goal percentage and three-point percentage, but being outrebounded 38-29 and allowing the visitors shoot 25 free throws on the night was the difference in the end.
"We made plays down the stretch when we needed to," Keatts said. "I'm proud of our guys. It's hard to finish games, it's hard to win games in this league and especially on the road."
If you look closely at the recent results, however, there is still a reason to believe. Sure, the loss to Boston College was a bad one. But there is no shame in losing to Wake Forest, Clemson and NC State, all teams with a great shot at making the NCAA Tournament. Without Cattoor or prized freshman Rodney Rice, the Hokies have lost their last four games by a total of 14 points. It likely won't get better until Cattoor returns, but with six more games against currently ranked teams and likely more to come as Clemson should be ranked soon, there will be opportunities. But every aspect has to get a bit better, and Young recognizes that.
"We've got to have others play better basketball when Cattoor comes back, and I think he'll be back, I hope to goodness he'll be back on Wednesday," Young said. "Hunter, as good as he is, is not the cure-all. He's a big part of what we do, Been around, played a lot of ball games. He's a person they all admire, I admire, but we've got to have the right stuff from everyone.
"They understand that Hunter's not coming back on Wednesday and scoring 20 points at Syracuse. Grant Basile's got to be better, we've all got to be better. I've got to coach better."