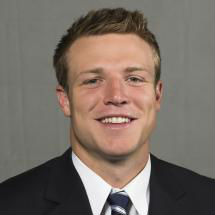 The dreams of Virginia fans that one-time Heisman candidate Taysom Hill may be interested in Virginia hit a reality checkpoint.
Hill, who excelled at BYU under new UVA coach Bronco Mendenhall, announced Tuesday on Twitter that he will return to the Cougars football program in 2016.
#Cougarnation I want to thank you for all of your love and support and let you know I am coming back to BYU for one more year!! #2016 #fam

— Taysom Hill (@T_Hill4) February 16, 2016
Hill only played one full season at BYU under Mendenhall, in 2013, throwing for 2,938 yards, 19 touchdowns and 14 interceptions, with an additional 1,344 yards and 10 TDs on the ground.
He went down in the first half of the Cougars' season opener in 2015, opening the door for freshman Taylor Mangum, who put up solid numbers (3,377 yards, 23 TDs, 10 INTs) in leading Brigham Young to a nine-win season.
Mendenhall inherits incumbent UVA starting QB Matt Johns, who threw for 2,810 yards and 20 touchdowns in 12 starts in 2015.
Johns also threw for an FBS-worst 17 interceptions.