Column by Matt Lohr, Commissioner of the Virginia Department of Agriculture and Consumer Services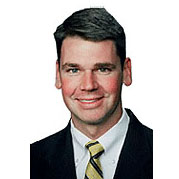 It's hard to believe that it has been nearly four years since I was given the tremendous opportunity to serve as Virginia's 14th Commissioner of Agriculture and Consumer Services. Teaming up with Gov. Bob McDonnell and Secretary of Agriculture and Forestry Todd Haymore to help lead the Commonwealth's number one industry has truly been one of the greatest experiences of my life.
Over the past several months, I have really pondered my future as Governor McDonnell's term draws to a close. As you may know, almost two-and-a half-years ago my wife Andrea passed away from an extensive battle with breast cancer. Since that time, it has been very challenging for me to juggle my duties as commissioner with the duties of being a single parent.  I am very happy to share that my two children continue to do well and have adjusted to our new life. Caroline, who is almost 13, serves as her middle school chapter ffa president and enjoys basketball, track and cross country. Carson is now eight and stays very busy with basketball, AWANA, 4-H and playing on the farm. They continue to be my greatest joy in life.
I've also learned as all parents do that as our kids grow up, they require more time and attention. Ball games, competitions, church events, practices and appointments seem to multiply the older they get. Can Caroline's first boyfriend and a learner's permit be far behind? It's a wonderful season of life, but one that has become tougher to balance in my current position.
After much prayer and deliberation, I have decided to step down as VDACS Commissioner in mid December. This has been a very tough decision to make, but it is one I feel is in the best interest of my family moving forward.
Starting December 16, I will be joining the fine folks at Farm Credit of the Virginias as director of the Farm Credit Knowledge Center. The Knowledge Center's mission is to facilitate the sharing of knowledge and resources for the betterment of all farmers through customer-focused programs that increase and advance the knowledge base of the agricultural community. Here I will have the opportunity to build relationships and serve as a resource for young, beginning, small, minority and veteran farmers as well as the established full time producers. It's a very exciting opportunity and one that will allow me to work from Harrisonburg and be at home much more for my children.
I was feeling a little sentimental about my decision the other night and asked Carson if he knew why I was making the change. I expected him to answer with something like, "Yes, Dad, you're doing it so you can spend more time with me and sis." Instead his eyes lit up and he eagerly said, "Yep! Because your time is up." Nothing like children to keep you in your place, huh?
I reflect back on the past several years with great pride in what all we have been able to accomplish together in Virginia. With the help of producers, agricultural industry stakeholders, elected officials and my fellow government employees, we can look back on so many proud accomplishments. We have elevated agricultural exports to record levels, opened new international marketing offices around the globe, implemented the Agriculture and Forestry Industries Development (AFID) grant fund for producers, assisted in making land conservation easements a valuable option for working farmlands, enhanced local food opportunities for both producers and consumers, and provided excellent customer service while inspecting fuel pumps, retail food establishments, pesticide applications and charitable gaming facilities – to name just a few.
I honestly believe our agency is stronger and the agricultural industry is in a greater position to thrive moving forward. It is my sincere hope that under a brand new administration next year, our agency and the entire agricultural industry can continue to reach new heights all across the Commonwealth of Virginia.
I will forever consider it an honor to have served as the 14th Commissioner of Agriculture and Consumer Services, and I want you to know I will continue to be involved in Virginia agriculture, both in my new position and on our family farm.
Now, let me say goodbye to you, my readers. Thank you for allowing me to share my thoughts – and a good bit of my personal life – with you these last three-and-a-half years. I thoroughly enjoyed this opportunity to connect with you on a more personal level. I will miss this monthly column, and if the new Commissioner keeps the tradition alive, I know you will extend to him or her the same courtesy and friendship you extended to me.