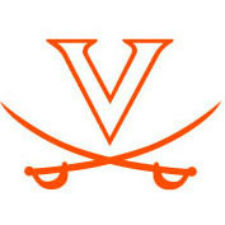 The third-ranked UVA women's soccer team concluded its preseason schedule Monday with a 5-0 exhibition victory over VCU at Klöckner Stadium. The Cavaliers had four different goal scorers on the evening, including three making their first home appearance for Virginia.
Sophomore Tina Iordanou (Upper Brookville, N.Y.) led Virginia with two goals in her first home game after transferring from Vanderbilt. Fellow sophomore transfer Meghan Cox (Springfield, Va.), who came from James Madison, also notched her first goal as a Cavalier. First-year Veronica Latsko (Venetia, Pa.) added a goal and junior Kaili Torres (Fleming Island, Fla.) recorded a goal and an assist for the second straight preseason game.
"I think we looked at this game at where we are now compared to our first practice," said head coach Steve Swanson. "We made some progress tonight. We weren't all that sharp in our last exhibition against Michigan State, but I thought we were better tonight in terms of dictating tempo and making good decisions. A lot of players were able to get some quality minutes, so from that perspective, tonight was everything you could ask for in an exhibition."
The Cavaliers took the lead in the 13th minute as quick passing between Morgan Reuther (Chantilly, Va.) and Brittany Ratcliffe (Williamstown, N.J.) set up a one-time shot for Torres, who buried her second goal of the preseason. Iordanou scored her first goal of the night in the 23rd minute when she knocked in a rebound after Emily Sonnett's (Marietta, Ga.) header was saved. Six minutes later Latsko extended the lead to 3-0 as she took a pass from Torres, beat the keeper and placed a shot into the vacated net less than two minutes after entering the game.
Virginia added a pair of second half goals on headers off corner kicks from Alexis Shaffer (Cary, N.C.). Cox scored her goal in the 73rd minute and Iordanou's header in the 79th minute gave her a multi-goal game in her first match in Charlottesville.
Overall, Virginia outshot VCU 29-1 and held an 18-1 corner kick advantage. Morgan Stearns (San Antonio, Texas) and Jessie Ferrari (Fairfax, Va.) each played a half in goal for the Cavaliers to post the shutout.
The Cavaliers' regular season schedule begins on Friday, Aug. 22 as they host Marshall. Game time at Klöckner Stadium is 7 p.m.