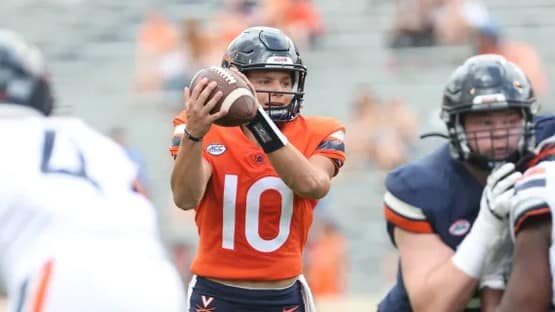 Nobody is reading our stories on Virginia football, based on the Google metrics that I follow religiously all day long every day.
If I write about Tony Bennett being seen at a local restaurant eating a turkey sandwich, 2,000 people will click to find out if Hunter Dickinson was with him.
Football, though – meh.
Anyway, a lot happened in spring practice, if you cared, would give you insight into how things might play out in the fall.
Yes, I know you won't be reading those stories, either.
UVA football is just prelude, to, you know, UVA basketball.
In any case, this is what I would have you read if you wanted to know more about Virginia football, which you don't.
The QB1 battle: A three-way?
The talk of the spring was about the battle for QB1 between last year's backup, Jay Woolfolk, and Monmouth transfer Tony Muskett.
Tony Elliott has made clear that he won't make a decision until training camp this summer, in part because Woolfolk didn't get a lot of live reps due to his duties as the closer on the Top 10 UVA baseball team.
Based on just what I saw in the spring game, I think the battle could be a three-way, with true freshman Anthony Colandrea giving the other two a run for their money.
Colandrea, in the spring game, was 18-of-29 for 218 yards and one TD, a five-yarder to freshman wideout Jaden Gibson.
The numbers told part of the story. His pocket presence and confidence belied his youth – the kid just signed in December, is an early enrollee, and should be working on finding a date for his high-school prom.
Offensive coordinator Des Kitchings said last week that Colandrea, according to the team's internal metrics, was completing 68 percent of his throws in team periods and seven-on-sevens this spring, tracking right there with Muskett, a three-year starter at Monmouth, an FCS school.
"I've been very pleased with that room, and their progression throughout the spring," Kitchings said.
The value of being on the same page
I hated seeing Marques Hagans go, though I understood why it was a smart move for him to take the job he got at Penn State, where he will coach wide receivers and also be the recruiting coordinator on offense.
That's a big step up for a guy that I assume is going to be a P5 head coach within the decade.
But it might end up being a good thing for Virginia, too, that Hagans, and Garett Tujague, the offensive line coach, have both moved on to greener pastures.
Hagans and Tujague were holdovers from the offensive staff of Robert Anae, who is now at NC State, as is Tujague.
I've made myself clear on the huge mistake that Elliott made early in his tenure in trying to fit Brennan Armstrong, who is also now at NC State, and the rest of the record-setting 2021 Virginia offense into his pro-style approach, but now, with Armstrong, the other key skill players, and the two holdovers from the Anae staff all gone, there won't be any more talk about how things were better under the previous regime.
"Offensive football is all about chemistry, cohesion, timing, right, and it takes, I mean, it takes time for those things to come to come together," Elliott said. "Not to say that you don't have to have it on defense, because you certainly do, but, you know, offensive football is all 11 on the same page every single play. And so, I think where we are now is, you're just seeing that the guys are a lot more comfortable.
"They're not thinking about, you know, just the basic things like, how do I line up, you know, what's my stance, you know, what's my split. Now they're able to get into a situation where that's, that's part of their DNA," Elliott said. "They can start to scan the defense to see, you know, how the play needs to be executed, as opposed to, you know, what we're doing. So, I think last year was more just figuring out what we're doing.
"Now you're starting to see growth from the standpoint of why we're doing what we're doing. And then if you understand why, you know, what you're doing, then you figure out the how, and the how is what allows you to be successful at a high level, because you're now playing the game within the game, so to speak."
More emphasis on special teams
The Virginia special teams were god-awful last year, so bad that I was shocked that Elliott didn't make a change at coordinator.
But Keith Gaither is back for a Year 2, and it seems that there's a new battle plan for how to improve on last year's disaster.
"You know, first and foremost, it's a third of the football game, so if it takes us to play in more starters on special teams to give us a winning edge, we'll do that," Gaither told reporters last week.
That said, Elliott and Gaither tried this some last year, then waffled because of the lack of depth in the two-deep that left the offense and defense vulnerable at times.
One point of focus in the spring was getting guys ready both in terms of skill and conditioning to be able to pull double duty.
"We've solidified several starters that are going to be able to play one or two units, just like most places in the country, and then you want to, from there, you know, from punt, you've got starters on the punt, you can see more starters on the punt team, you know, so that's the most important snap. And then you'll see a lot of starters on the kickoff coverage unit. Those two units, we weren't as good as we wanted to be, so we're gonna change that by putting our best players out there," Gaither said.
The portal
Now that the spring period is over, Elliott and his staff know better what they need to be looking for in terms of the transfer portal.
The obvious needs are at offensive line and cornerback, and it might not hurt to add a linebacker with experience.
The emergence of Coleandrea as a third option at QB takes away what I had assumed would be a need to add depth to that group.
"It's gonna be be interesting, because this is kind of the first time we're going through this, the spring window, right, in terms of guys being able to go in and then also you kind of trying to complete your roster before you go into your summer," Elliott said.