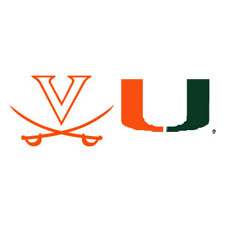 The UVA defense held a potent Miami attack in check, and put in a surprisingly dominant effort in the second half in a 30-13 win over the favored Hurricanes on Saturday night in Scott Stadium in Charlottesville, Va.
Virginia (5-6, 3-4 ACC) had come in on a four-game losing streak that had many thinking that coach Mike London's job was on the line this week. Miami (6-5, 3-4 ACC), off a demoralizing 30-26 loss at home to #3 Florida State last week in which the 'Canes had led most of the way, got on the board first on a 47-yard TD pass from Brad Kaaya to Phillip Dorsett, and the pre-game narrative that had UM as a six-point favorite was playing to script.
UVA got on the board on a 20-yard Ian Frye field goal early in the second quarter that made it 7-3 Miami, then took the lead at the 3:21 mark on a highlight-reel 23-yard TD catch by Canaan Severin.
Miami seemed poised to tie the game just before the half, but Daquan Romero blocked a 34-yard Michael Badgley field-goal attempt, and Maurice Canady picked up the carom and ran it back to the Miami 3. The Cavs had to settle for another short Frye field goal and led 13-7 at the break.
Virginia got some breathing room late in the third when Darius Jennings scored from a yard out to cap a 10-play, 61-yard drive that made the score 20-7 with 1:37 to go. After the UVA defense forced a Miami punt and gave the offense a short field to work with, Frye made it 23-7 with a 22-yard field goal at the 11:37 mark in the fourth.
Quin Blanding intercepted Kaaya on the next Miami series at the UM 35, and the 'Hoos punched it in five plays later on a 4-yard run by Khalek Shepherd to go up 30-7 with 8:30 left.
Miami closed out the scoring with 1:24 to go after blocking an Alec Vozenilek punt that was scooped up by Joseph Rodgers and returned 13 yards for a touchdown.
Virginia quarterback Greysom Lambert was 17-for-26 passing for 146 yards and a touchdown with one pass intercepted and a quarterback rating of 122.3. Shepherd gained 95 yards on the ground on 22 carries to key a rushing attack that gained 195 yards on the night.
Kaaya was 20-for-33 passing for 263 yards and a touchdown with one pass intercepted and a quarterback rating of 131.5.
Duke Johnson had 88 yards rushing on 15 carries, but lost a fumble in the first quarter after a 26-yard gain, and Miami ended the night with 64 yards on the ground on 23 carries.