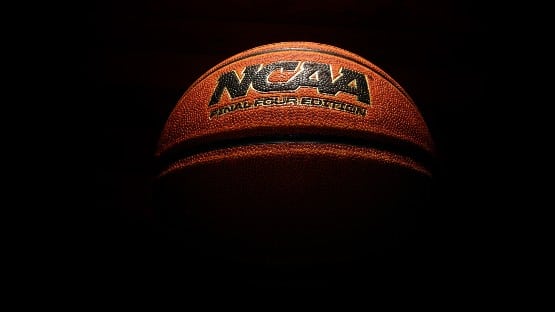 While there may not be any No. 1 seeds remaining (or 2-seeds, or 3-seeds, for that matter), there are still three games left to determine the 2022-23 NCAA men's basketball champion, in perhaps the most unpredictable tournament we've ever witnessed.
Yes, most — if not all — of our brackets are completely busted by now, but the Final Four is set to tip off Saturday evening at NRG Stadium in Houston with a pair of intriguing matchups. No. 5 seed San Diego State (31-6) and No. 9 Florida Atlantic (35-3) will lock horns in Saturday's first national semifinal at 6:09 p.m., and then No. 4 UConn (29-8) will square off against No. 5 Miami (29-7) in the nightcap at 8:49.
Both games will be televised on CBS. Saturday's winners will meet up on Monday night at 9:20 (also on CBS) for all the marbles.
If you total up the team's seeds (4, 5, 5, 9), you'll get 23, which is the second-highest number in 44 years. Only in 2011 was it higher (26). Three of this year's participants are here for the first time in program history (it's the first Final Four with three newcomers in 53 years). There are no former McDonald's All-Americans left, no superstar one-and-done projected NBA lottery picks.
It may not exactly be anything close to what most of us expected, but all four remaining teams were ranked in the final AP poll, and each ranks in the top 15 in the country in winning percentage. In other words, they all deserve to be here.
One thing is for certain — when "the ball is tipped" this weekend, all four teams will be giving it everything they've got in order to trim down the nets on Monday night and experience their own "shining moment."
Here's a deeper look at each national-semifinal matchup, including which players to keep a close eye on, how each team got here, season stats, quotes and more.
San Diego State Aztecs vs. Florida Atlantic Owls
The line: San Diego State by 3.
Final AP ranking: FAU 25; SDSU 18.
Final NET ranking: FAU 13; SDSU 14.
Record vs. AP Top 25: FAU 3-0; SDSU 1-2.
Road to the Final Four: FAU — def. No. 8 Memphis, 66-65; def. No. 16 Fairleigh Dickinson, 78-70; def. No. 4 Tennessee, 62-55; def. No. 3 Kansas State, 79-76. SDSU — def. No. 12 Charleston, 63-57; def. No. 13 Furman, 75-52; def. No. 1 Alabama, 71-64; def. No. 6 Creighton, 57-56.
The breakdown — Both the Aztecs and Owls are looking for their first trip to the national championship, as this is both teams' first Final Four appearance.
The Mountain West Conference champion Aztecs, winners of eight-straight contests, were the No. 5 seed in the South Region. They took out No. 1 overall seed Alabama last week in the Sweet 16, and are hungry for two more victories and a spot in not only school history, but conference and NCAA history as well. No team from the MWC has ever won a national title.
SDSU had a chance to make a run after a stellar 2020 regular season, only to see their hopes derailed by the pandemic and the cancellation of the postseason.
Coach Brian Dutcher's team plays a physical, tough, defensive-minded brand of basketball, as referenced by a top-25 scoring defense that allows just 62.9 points per game. After missing out on what could have been a few years back, Dutcher has confidence in this year's group.
"We've had good teams, but it's hard to win in March," Dutcher admitted. "We all know that. I mean, if we were to say all the best teams with the best season should be here, they're not here right now. The teams that are playing the best are here."
A different player has led the Aztecs in scoring in all four of their tourney wins. Junior guard Lamont Butler was the hero Sunday with a game-high 18 points, but it was a Darrion Trammell free throw in the closing seconds that sent SDSU to Houston.
Senior guard Matt Bradley is the team's leading scorer on the season with an average of 12.5 points per game.
The underdog, ninth-seeded Owls are the Conference USA and East Region champions, and they've won their first four NCAA Tournament games in program history to get here.
In fact, FAU is one of the hottest teams in America, having reeled off 11-straight victories. The Owls own the nation's best winning percentage (92.1 percent), with a Division-I-leading 35 wins and D-I-low three losses — just don't make any mention of slippers fitting.
"No Cinderella at Florida Atlantic, man," said sophomore forward Giancarlo Rosado. "If you want to call us something, call us champ, call us 'The Beach Boys,' but no Cinderellas."
FAU coach Dusty May, a former assistant at Florida under Mike White, knows his team may be underdogs, but that they'll be ready to roll on Saturday night.
"I still don't think our guys are going to be fazed by the 70-plus-thousand, the lights, the attention, because they love ball," said May. "They love to compete, and they have a lot of faith in their teammates. I think it's what's gotten us to this point.
"We have a lot of guys who are really good players, and some of them are exceptional on given nights, so I'm very confident they're going to show up and do what they've done."
Johnell Davis leads the Owls in scoring at 13.9 points a night, while another sophomore guard, Alijah Martin, is right behind him with an average of 13.1 points per game. Vladislav Goldin, a 7-foot-1 sophomore center, adds 10.3 points and a team-high 6.6 rebounds per game.
Connecticut Huskies vs. Miami Hurricanes
The line: UConn by 6.
Final AP ranking: Miami 16; UConn 10.
Final NET ranking: Miami 35; UConn 8.
Record vs. AP Top 25: Miami 6-1; UConn 5-5.
Road to the Final Four: Miami — def. No. 12 Drake, 63-56; def. No. 4 Indiana, 85-69; def. No. 1 Houston, 89-75; def. No. 2 Texas, 88-81. UConn — def. No. 13 Iona, 87-63; def. No. 5 Saint Mary's, 70-55; def. No. 8 Arkansas, 88-65; def. No. 3 Gonzaga, 82-54.
The breakdown — The fourth-seeded Huskies are the West Region champs; they're also the highest-seeded team remaining and are the heavy favorites to cut down the nets come Monday evening. As we've seen on multiple occasions throughout this year's Big Dance, however, anything can happen.
One thing UConn has managed to achieve consistently throughout the tournament is to win in convincing fashion, taking its first four games by a combined 90 points, an average win margin of 22.5 points per outing.
UConn's Dan Hurley said he's gotten advice recently from such legendary coaches as Mike Krzyzewski, Tom Izzo, Jay Wright, Jim Calhoun and Geno Auriemma regarding how to keep his players in the right mindset heading into the biggest weekend of their playing careers.
"All my mentors tried to get me ready for this — Coach Calhoun and Geno and Tom Izzo and Coach K and Jay Wright — like I was smart enough to try to get great advice from people of what to expect," said Hurley. "You don't expect a lot of the media demands, and just the feeling of exhilaration and just how big this is."
Adama Sanogo, a 6-9 junior forward who leads the team in scoring (17.1 ppg) and rebounding (7.5 rpg), is the go-to guy down low for Hurley's Huskies. Sophomore guard Jordan Hawkins (16.3 ppg) can also fill it up, while six other Huskies are averaging between 5 to 10 points per game, as UConn thrives on its depth. Nine players play an average of 13 minutes-plus per game.
"The best teams I've coached in college were eight, nine, even 10 deep with quality, because of how hard we play. You've got to have a deep team…," said Hurley. "Adama Sanogo has been one of the best players in the NCAA Tournament, in large part because we've been able to keep him fresh."
The No. 5 seed Hurricanes, meanwhile, are also in the Final Four for the first time ever, as they knocked out No. 2 seed Texas in the Midwest regional final to punch their long-awaited ticket.
Former UVA assistant coach Jim Larrañaga's squad was led by Jordan Miller, who had a memorable performance in the comeback win over the Longhorns, connecting on all seven of his field-goal attempts — while also going a perfect 13-for-13 from the charity stripe — to lead all scorers with 27 points.
"None of us wanted to go home," Miller said of his big day, adding, "I don't know if there was a point in the game where I thought we were going to win. I was so determined to make sure — anything can happen with how much time is left on the clock. Coach always preaches that. After the buzzer sounded, it felt surreal."
ACC Player of the Year Isaiah Wong believes that going through such a tough conference slate night in and night out paved the way to the Canes erasing an eight-point deficit at halftime to finish strong and emerge victorious.
"I would just say I thank the ACC for preparing us for these types of games," said Wong. "Just coming in, every game we played in the ACC is always a close game. It's always a shot to win. I feel like coming into March we'd been in those types of situations, and we played good. We weren't afraid or scared of any situation. We just stuck together and played together throughout the game."
Starters Nijel Pack (13.8 ppg), Norchad Omier (13.3 ppg, 10.1 rpg) and Wooga Poplar (8.7 ppg) are also each capable of solid offensive production.
Larrañaga says he's simply "staying in the moment and just having fun with it," and says he feels more patient overall with his coaching approach than he did in 2006, when he led 11th-seeded George Mason to a Final Four.
"There have been a lot of great players, a lot of great teams that have never reached this point in their playing career or coaching career," Larrañaga said. "So you've got to appreciate every opportunity you get, and we're just looking forward to playing Saturday night."