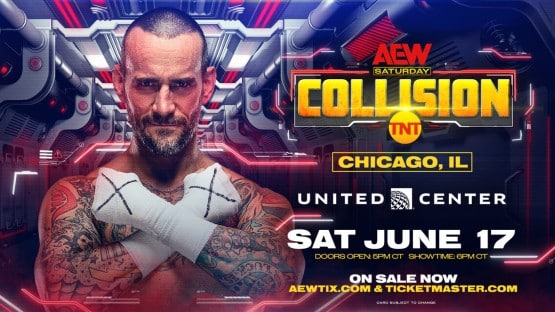 If you're still wondering why Tony Khan pushed the CM Punk button what would seem to be a couple of weeks early, yeah, it was all about business.
Khan announced this week that Punk will return for the debut episode of AEW "Collision" on June 17, after weeks of allowing fans to speculate on Punk's status, as he had done before Punk's debut with the promotion back in 2021, to great success – the company drew 1.1 million viewers for its second episode of "Rampage," still an all-time high for that weekly show.
AEW was at a high point back in 2021; the company is very much not there right now.
Yes, the company is boasting around 70,000 tickets sold for its Aug. 27 Wembley Stadium show (WrestleTix puts the actual sale number at 61,585 – still not bad), but that's an obvious one-off.
AEW has been playing in front of less-than-full houses for a few weeks now. According to WrestleTix, the May 24 "Dynamite" in Las Vegas was as 77.7 percent capacity for the "Double or Nothing" go-home show, and the pay-per-view itself was at 87.9 percent capacity, with 1,412 tickets unsold.
This week's "Dynamite" in San Diego was bad, bad, bad for business – at 56.2 percent capacity, with 3,040 available tickets from the 6,947-seat show setup.
Even with this week's announcement that Punk will return for "Collision" on June 17 in his hometown of Chicago, there are still, at this writing, 2,172 available tickets for a setup of 8,698, putting the show at 75.0 percent capacity with two weeks to go.
One other business note to throw in here: "Double or Nothing" drew an estimated 130,000 to 135,000 pay-per-view buys, according to the Wrestling Observer Newsletter.
Wrestlenomics, which would have more reliable numbers, hasn't weighed in with a report on the PPV buys for the most recent show yet, but the site pegged last year's "Double or Nothing" at 165,000.
That decrease, in the range of 18 percent, represents a drop of $1.5 million in gross revenues from last year to this year.
Let's call this the CM Punk Effect.
The company's top draw has been out for nine months with injury and the remaining fallout from the post-"All Out" brawl with AEW executive vice presidents Kenny Omega and Matt and Nick Jackson.
Whatever the EVPs may think about Punk, the company needs him back, to move tickets and get people hitting buy on AEW PPVs again.