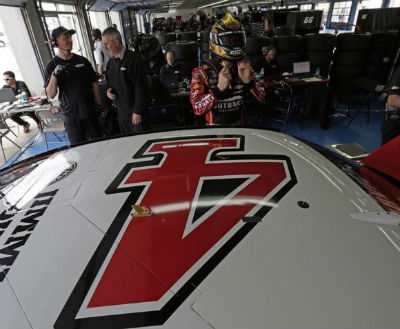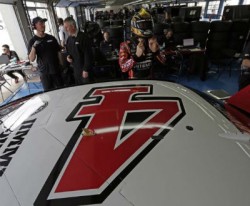 In a sport where fractions of a second can be the difference in victory and defeat, NASCAR's open test dates are critical to teams looking to gain any advantage over the competition. Wednesday's test at Charlotte Motor Speedway was no different, with 13 of NASCAR's top teams working to gain an edge looking ahead to May's 10 Days of Thunder at the legendary 1.5-mile superspeedway.
Some of the biggest names in the sport, including 2014 NASCAR Sprint Cup Series champion Kevin Harvick, defending Daytona 500 winner Joey Logano and defending NASCAR Sprint All-Star Race winner Jamie McMurray were among the drivers taking part in Wednesday's test.
Harvick posted the fastest unofficial lap of the day at 190.718 mph, followed by Aric Almirola, driver of the No. 43 Ford for Richard Petty Motorsports (190.228 mph), Kasey Kahne, driver of the No. 5Hendrick Motorsports' Chevrolet (190.128 mph), Logano (189.707 mph) and McMurray (188.877 mph).
For Almirola, Wednesday marked the second straight day of testing at Charlotte Motor Speedway. After taking part in Tuesday's Goodyear tire test, Almirola said today's test was a great opportunity for his team to test setups and aerodynamic packages in hopes of gaining critical speed for May'sNASCAR Sprint All-Star Race and Coca-Cola 600.
"I think the All-Star Race is going to be unique, interesting and exciting all on its own," Almirola said. "I've heard there's a possibility that we'll run the 2016 package in the All-Star Race. That would be really cool for all of us to go out and have fun and race something completely different than what we're used to with no points on the line."
As for the Coca-Cola 600, Almirola said it's a race that's on every driver's bucket list.
"Everybody wants to win the Daytona 500, the Brickyard 400, the Coca-Cola 600 and the Southern 500. Those are the four major races in our series," the 2012 Coca-Cola 600 pole-sitter said. "Anytime you come here in May, you know it's a grueling race. It's 600 miles. You've got to have a car that will last. That's kind of what we've worked on today. You've got to make it last on a long run. You've got to make it consistent in the heat of the day when it's hot and sunny and slick and when it cools off like it does at nighttime. You just go through so many swings and transitions with the racetrack that you've got to have a really consistent racecar."
Keith Rodden, crew chief for Kahne, said with NASCAR's new testing rules, opportunities to turn laps at Charlotte Motor Speedway are vital for data collection.
"Being able to try things and look at the data acquisition and see what it did (is a significant advantage)," he said. "On a race weekend, you don't get to run with sensors, so you can make changes but not really know what happens. That's the biggest advantage we get from these tests.
"(The conditions) might be different (in May), but they're going to be way closer than if this test was last week. I think it's like 75 out there. I feel like this test is going to help when we come back because there's not going to be that 40 or 50 degree jump in ambient temperature, but there's so much you have to be cognizant of."
In addition to a full day of NASCAR Sprint Cup Series testing, fans were treated to an autograph session with NASCAR Hall of Famer Junior Johnson, discounted ticket offers, spin-to-win giveaways and more as part of a free fan event called NASCAR Fan Fest.
Fans can catch all the action from the 10 Days of Thunder, including both the NASCAR Sprint All-Star Race and the Coca-Cola 600 with the 10-Day May Mega Pass, starting at just $199. The May Mega Pass gets fans access to the Sprint Showdown and North Carolina Education Lottery 200 (May 15), NASCAR Sprint All-Star Race (May 16), LiftMaster Pole Night (May 21), the Hisense 300 (May 23) and the Coca-Cola 600 (May 24). Tickets can be purchased online atwww.charlottemotorspeedway.com or by calling the speedway ticket office at 1-800-455-FANS (3267).
Connect with Charlotte Motor Speedway by following on Twitter or become a Facebook fan. Keep up with all the latest news and information from the speedway by downloading the new Charlotte Motor Speedway mobile app on any mobile device.