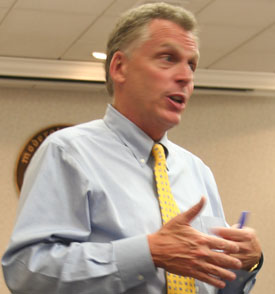 Virginia gubernatorial candidate Terry McAuliffe is sending a letter today to Virginia's U.S. House delegation urging them to support the Marketplace Fairness Act. Monday night, Sens. Mark Warner and Tim Kaine helped in a bipartisan effort to pass this commonsense policy.
With much of the funding for Virginia's bipartisan transportation compromise coming from the revenue generated by The Marketplace Fairness Act, its passage is critical to the future economic health of the Commonwealth.  Showing the bipartisan nature of the bill, Congressmen Griffith (R), Rigell (R), and Scott (D) are already co-sponsors of the House version.
May 8, 2013
Dear Members of Virginia's House Delegation,
Monday night, the U.S. Senate took a major step toward ensuring that Virginia's bipartisan transportation compromise will be fully funded by passing The Marketplace Fairness Act.  This commonsense proposal would ensure that all online retailers are held to the same standard as Main Street merchants across the Commonwealth.  I write today to urge you to join Senators Mark Warner and Tim Kaine, who helped pass the bill through the Senate to help level the playing field for Virginia's brick and mortar businesses as well as help ensure we have the funding we need to restore our world class transportation network and continue to collect federal matching dollars for our system.
Virginia's been ranked consistently in recent years as the Best State in America to do Business.  But in the last few years, we've dropped because of federal spending cutbacks and the lack of investment in our transportation system. While CNBC ranks us third for business overall, we're 33rd in transportation, which holds us back from the top.   Governor McDonnell, Lt. Governor Bolling, and members of both parties in the General Assembly made tremendous progress in changing how we fare in such rankings and how we are viewed by rating agencies and potential new employers by passing the transportation compromise earlier this year.
As you know, Virginia's bipartisan compromise passed with broad support partially because of the belief that Congress would take action on the Marketplace Fairness Act and avoid a trigger in the legislation that would raise other revenue.
The passage of the bipartisan transportation compromise demonstrated that in Virginia, we can still work together to find mainstream compromise. It is my hope that our Congressional delegation can also work together and lead the way on this critical issue.
As the number one recipient of federal dollars, we must strengthen and diversify Virginia's economy in the face of spending drawdowns and automatic cuts.  Few investments are as critical to growing our economy as a 21st century transportation system.  While much of this is determined by state-level leadership, a key component of the funding is dependent on your support of The Marketplace Fairness Act.
Thank you for your leadership.
Sincerely,
Terry McAuliffe
McLean, Virginia