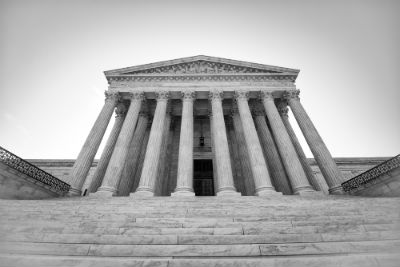 First, they came for women's abortion rights, saying abortion should be decided at the state level. Then they overturned a century-old gun law in New York, showing their disregard for decisions made at, you know, the state level.
Then they gave judicial sanction to high school coaches peer-pressuring student-athletes to pray after games because, of course they did.
Today the conservative activist Supreme Court ruled in favor of a quicker end to human civilization, in the form of curbs on federal power to reduce carbon emissions from power plants.
We're at the end of the world as we knew it. Hope you're OK with it.
"At a time we're seeing devastating impacts of climate change in communities across Virginia and the nation, it's outrageous that the out-of-touch Supreme Court has handcuffed the EPA's ability to address the climate crisis," U.S. Sen. Tim Kaine (D-VA) said of the 6-3 decision in West Virginia vs. EPA, in which the Court said Congress did not give the EPA broad authority to reshape the system for producing electric power by switching from coal to natural gas, wind turbines and solar energy.
Chief Justice John Roberts, in the majority opinion, wrote that Congress, and not the EPA, has the authority to make decisions on fighting climate change.
"Capping carbon dioxide emissions at a level that will force a nationwide transition away from the use of coal to generate electricity may be a sensible solution to the crisis of the day," Roberts wrote. "But it is not plausible that Congress gave EPA the authority to adopt on its own such a regulatory scheme. … A decision of such magnitude and consequence rests with Congress itself, or an agency acting pursuant to a clear delegation from that representative body."
Problem here is, Congress, half of which has been bought and paid for by the energy industry, hasn't passed significant environmental legislation since the Nixon administration.
Former president Barack Obama's workaround was a directive to the EPA to use a provision in the Clean Air Act that called for reducing pollution through the "best system of emissions reduction" to require states to reduce their pollution by switching from coal-fired power plants to using more solar and wind power.
A 2016 Supreme Court ruling, on a narrow 5-4 vote, blocked that plan from taking effect. Several states sued to challenge that conclusion, and won at the federal appellate level.
The Biden administration pledged to devise a new set of regulations to reduce pollution from power plants, but before it was able to do so, West Virginia and 18 other Republican-controlled states sued to have the Supreme Court clarify the law.
And now it has, to our detriment.
"The Supreme Court's decision to severely curtail the federal government's ability to limit harmful greenhouse gas emissions is a major blow in our continued fight against the climate crisis and environmental injustice," Fourth District Virginia Democrat Donald McEachin said. "The Clean Air Act, which was passed and amended by Congress on a bipartisan basis, has been integral to the agency's ability to tackle climate change, protect the public from dangerous air pollution, and reduce greenhouse gas emissions. This opinion completely disregards the intent of the legislation, which aimed to confer broad regulatory authority on the EPA."
You could argue – and I am arguing here – that the Court is in fact well aware of the intent of the legislation, and doesn't care one iota.
The rulings handed down the past couple of weeks are the result of 50 years of concerted effort on the part of would-be autocrats to refashion American society into a personal money spigot.
"The conservative Court majority's naked judicial activism, their disregard for the will of the people's elected representatives to respond to one of our society's most pressing needs, and their contempt for the Court's own precedents make it clear that the U.S. Supreme Court is a broken institution," said Eighth District Virginia Democrat Don Beyer, co-chair of the Safe Climate Caucus.
'Tis. Now, what are we going to do about it?