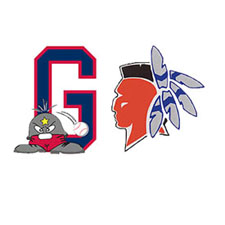 A two-out, two-strike, ninth-inning double by James Vasquez tied the score, and the Staunton Braves broke through with two runs in the top of the 10th en route to an 8-6 win over the Waynesboro Generals at Kate Collins Field Tuesday night.
The game was a back-and-forth contest from the get-go. Both teams scored in the first, Staunton (10-11) on an error that allowed Joey Rodriguez to score, Waynesboro (15-9) on an RBI groundout by Travis Naraine after leadoff man Mike Marcinko reached on an error.
A Kyle Pitts sacrifice fly RBI in the second and a pair of unearned runs in the third put the Generals up 4-1. The Braves narrowed the gap to 4-2 in the fifth on an RBI double by Rodriguez and tied it in the sixth on an RBI groundout by Elliott McCummings and a wild pitch that allowed Hunter Thomas to score.
Staunton took the lead in the top of the eighth on a Derek Gallello sac fly, but Waynesboro rallied with two in the bottom half of the inning when Cole Gruber scored on a wild pitch and Dan Neff scored on an error.
The Vasquez double extended the game, though the Generals made it interesting in the bottom of the ninth, getting two on base with two out before Neff struck out to end the threat.
The Braves 10th didn't get going until there were two out in the inning. Jimmy Redovian doubled, and Gallello singled him home to make it 7-6 Staunton. Tommy Williams knocked Gallello in later in the inning to pad the lead to two.
Waynesboro again got two on with two out in the bottom of the inning, but Marcinko struck out to end the game.
Zach Williamsen (2-2) took the loss for the Generals, giving up two runs on four hits in his lone inning of work, the 10th.
Waynesboro is back in action Wednesday at Woodstock.
More online at www.WaynesboroGenerals.net.