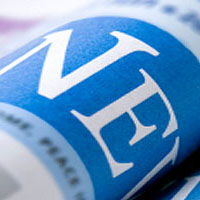 Mid-September is a great time to give public transportation a try throughout Virginia, with special giveaways and free rides available during Try Transit Week. Free rides on select transit routes in the Shenandoah Valley will be offered on September 17 and Virginians who go to www.trytransitweek.org and pledge to try a form of transit during the statewide Try Transit Week will be automatically entered for a chance to win a pair of round-trip tickets aboard Amtrak's Northeast Regional train.* Pledges will be accepted through September 19, 2014.
Try Transit Week, which takes place September 15 -19, 2014, is a week-long, educational event designed to encourage Virginians to reduce their use of single-occupancy vehicles and try a form of public transit such as bus, rail, or ferry. The Central Shenandoah Planning District Commission (CSPDC) is responsible for planning and oversight of public transit in the cities of Staunton and Waynesboro, and portions of Augusta County, and to celebrate Try Transit Week, the following transit services will provide free rides all day on Wednesday, September 17:
· Staunton Trolley system provides service in historic downtown Staunton, and throughout the City
· 250 Connector buses that travel between Waynesboro and Staunton and provide vital access to Augusta Health
· Waynesboro Circulator bus that connects residential areas of Waynesboro to retail, employment sites and community amenities
· Blue Ridge Community College Connector that provides transit connections in the Route 11 corridor between Staunton and Harrisonburg and transports students to the Blue Ridge Community College campus in weyers cave
· 340 County Connector covering the corridor between Stuarts Draft and weyers cave
The CSPDC is partnering with the Virginia Department of Rail and Public Transportation (DRPT) and other transit operators across the Commonwealth to spread the word about the benefits of using transit. Passengers who use public transportation not only save time and money, but they can work, read, listen to music and text while traveling, arriving at their destinations stress- and hassle-free.
"Public transportation plays an important role in providing an efficient and cost-effective alternative to private vehicle transportation not only for those who live and work in metropolitan areas, but also in rural communities around the Shenandoah Valley," said Nancy Gourley, Transit Program Coordinator with the Central Shenandoah Planning District Commission.
According to the American Public Transportation Association, the average household spends 18 cents of every dollar on transportation, and 94% of that goes to common car expenses. Relying on public transit as opposed to the family car helps reduce these expenses, such as gas and tune ups, saving the average family up to $10,000 a year.
*See trytransitweek.org for contest rules and regulations.