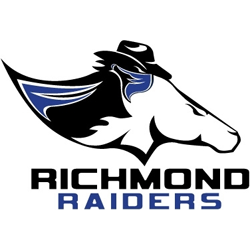 Since the nature of indoor football gives many advantages to the offense and specifically wide receivers, a good defensive secondary can make a huge impact in the outcome of a game.
The Richmond Raiders announced that they have signed two defensive backs from last season's team which led the league in fewest passing yards and touchdowns allowed. Tyrell Austin and Maurice Thorne will return for the 2015 season, and newcomer Adam Johnson has been added to help maintain the team's effectiveness.
Thorne (NC Wesleyan) is an original Raider who will be back for his, and the team's, sixth season. "Rece has played a solid role on our defense for years. I like that he can play every DB position on the field as well as the Jack," Raiders head coach James Fuller said.
Thorne was limited to just three games in 2014 due to an injury sustained while leaping for the end zone on a blocked field goal return. He finished in the top 5 on the Raiders in tackles in 2013, and has been a consistent contributor on special teams with several big kick returns on his resume.
"He's a vet who knows what I like to do defensively, knows all the calls and will be able to put players in the right positions. We are going to need his veteran leadership to push us forward," Fuller continued.
Thorne led the league in interception returns for touchdowns and passes defended in 2012, and was the first Defensive Player of the Week in PIFL history.
Austin (Virginia Union) joined the Raiders in midseason last year, and due in part to Thorne's injury, got a chance to start most games in the second half of the season. He made an immediate impact, racking up enough tackles to finish fourth on the team in total tackles, and fourth in the league in tackles per game.
Fuller calls Austin a "young physical corner with man to man skills and a huge upside. He played later in the season and helped solidify our secondary." Austin picked off two passes and broke up three more. "Hopefully after getting his feet wet he will be able to build on what he did last season and get us off to a great start in 2015," Fuller said.
Johnson (Memphis) is the first rookie Fuller has added to the secondary this offseason. Fuller sees in Johnson the potential to make a difference on the field. "He's a very athletic and young DB," Fuller said. "He has the ability to be effective in man to man coverage, as well as zone. I feel his versatility will allow him to play all three spots in the secondary and give us depth in the back half."
The Raiders will return to the Richmond Coliseum for their sixth season in the spring of 2015 with the home opener April 4. Season tickets and group event packages are available now at discounted prices. Call 804-780-0430 to reserve your seats!
Visit the Raiders online at RichmondRaidersProFootball.com for more details, a link to order tickets, and information on the team's offseason appearances and activities. Groups can call the hotline for pricing on customized events, including team building outings, rewards and recognition, and fundraising options.