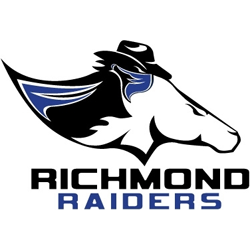 It's been said that winning teams are built from the inside out. If that's the case, the Richmond Raiders are making huge strides in putting together a winner for 2015, having added three veteran linemen for the upcoming season. James Carter, Christian Lacey, and Eric Weaver all return from last year's squad with experience in the Raiders' scheme, and will be counted on to set the tone up front.
Carter (NC Wesleyan) will suit up for his fourth season with the Raiders. In 2012 and '13, he played primarily on the defensive line, but last season he played both ways eventually transitioning almost exclusively to the offensive line by the end of the year. Head Coach James Fuller knows how valuable Carter's versatility is.
"Carter is one of the most productive lineman we have. He is our dual threat as far as a lineman is concerned. He can play both sides of the ball as a starter and became a huge part of our offense as the year went on," he said. Carter registered a sack and three tackles for loss defensively before making the switch. He frequently lined up at tight end, where he caught seven passes including one touchdown. "We like his athletic ability on offense, but he is also a very physical defensive lineman and a force as well on defense," Fuller continued.
Lacey (Louisiana Tech) got up to speed quickly in his first season with the Raiders in 2014, starting the last 11 games of the year. He finished seventh in the league with 8 sacks and fourth in tackles for loss with 12. Fuller believes that he will only continue to improve in 2015. "It took him a minute to understand the game, but once he did he was able to give us exactly what we wanted from him," Fuller said. At 255 pounds, Lacey relies on his quickness to get pressure on the quarterback, and can line up at any position. "He's not a huge guy, but his versatility allows us to move him all over the line from nose to end and from left to right. What I really like about him is he can rush the passer from the nose or the end successfully as well as play the run and split double teams," Fuller stated.
Weaver (Louisiana College) signed with the Raiders a third of the way through the 2014 season and cracked the starting lineup for the last five games. He provided some stability to the center position that was in a state of flux early in the year. "Weaver is another young player with a
huge upside," Fuller commented.
"It's always good to get a center back in camp. [Last season] he didn't get the benefit of coming into camp with us, so he had to learn on the fly. But he picked everything up quickly and got better in every game he played in 2014." With Weaver anchoring the offensive line, the unit matured as the season progressed, giving up three or fewer sacks in four of the last six games after averaging nearly five per game the first half. Fuller concluded, "With a full camp under his belt I expect him to come in and make a splash."
The Raiders will return to the Richmond Coliseum for their sixth season in the spring of 2015 with the home opener April 4. Season tickets and group event packages are available now at discounted prices. Call 804-780-0430 to reserve your seats!
Visit the Raiders online at RichmondRaidersProFootball.com for more details, a link to order tickets, and information on the team's offseason appearances and activities. Groups can call the hotline for pricing on customized events, including team building outings, rewards and recognition, and fundraising options.