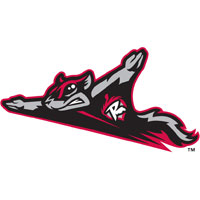 The Richmond Flying Squirrels (75-61) fell to the Altoona Curve (57-79), 3-2, at Peoples Natural Gas Field on Tuesday night.  Despite the loss, the Squirrels' magic number to claim the Western Division dropped to three as Akron also lost to Trenton, 5-0.
The Squirrels used the long-ball twice to grab a 2-0 lead against Altoona lefty Tom Harlan.  Myles Schroder opened the scoring in the ballgame when he launched his fifth of the season to left field in the second inning.  The solo-shot made it 1-0.  Mario Lisson then led off the fourth inning with a solo-blast to left-center field.  Lisson made it 2-0 with his 17th of the season – one shy of Jarrett Parker's franchise-record of 18 (2013).
The Curve evened the score in the bottom of the fourth against lefty Ty Blach.  Stetson Allie opened the inning with a double into the left-field corner.  Ramon Cabrera followed with a single to put runners at the corners with nobody out.  Allie scored when Willy Garcia reached on an error.  Blach struck out the next two batters, but Harlan aided his own cause with a soft-single to left field.  Cabrera scored to tie the game, 2-2.  One of the two runs charged to Blach was unearned.
Altoona grabbed their first lead and chased Blach from the ballgame in the sixth inning.  Blach surrendered an inning-opening single to Garcia.  Dan Gamache then bunted him to second base.  Blach recorded the second out of the inning, but was lifted in favor of righty Dan Slania.  His first pitch was cracked into left field by Carlos Paulino.  The single plated Garcia a 3-2 lead.
The run was charged to Blach (7-8), who took the loss over 5 2/3 innings.  He was charged with three runs – two earned – on eight hits.  He walked two and struck out five, enduring his third defeat to the Curve on the season.
Harlan allowed the two runs over 5 1/3 innings and didn't factor in the decision.  Right-hander Matt Nevarez (1-0) earned the win in relief.  He worked 1 2/3 scoreless innings for his first Eastern League decision.
Right-hander Stolmy Pimentel – making a Major League rehab appearance – worked a scoreless eighth inning.  Righty Collin Balester closed the ballgame with a perfect ninth to earn the save.
Game three of the four-game series is scheduled for 7 p.m. on Tuesday night at Peoples Natural Gas Field.  Richmond RHP Clayton Blackburn (4-5, 2.64) will make the start against Bowie LHP Joely Rodriguez (4-11, 4.61).  The Flying Squirrels Pregame Warmup will begin at 6:30 p.m. on Sports Radio 910 and SportsRadio910.com.