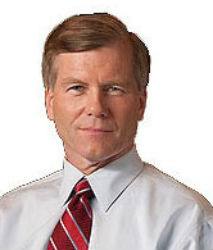 The Supreme Court could be leaning toward siding with convicted former Virginia Gov. Bob McDonnell in his corruption case.
"For better or for worse, it puts at risk behavior that is common," said Justice Stephen G. Breyer, in questioning of attorneys in the case in front of the high court on Wednesday.
McDonnell and his wife, Maureen, were each convicted on multiple counts related to the efforts of a Virginia pharmaceutical executive to get his company's products in front of state agencies and public universities.
The executive, Jonnie Williams, offered the first couple loans and gifts totaling more than $175,000 as McDonnell, in his time as governor, arranged for Williams to meet with state officials regarding his company's products.
Federal prosecutors alleged that the loans and gifts were offered in exchange for the access, an effective quid pro quo; attorneys for the McDonnells countered that Bob McDonnell did not try to influence state officials to do business with Williams.
Breyer expressed concern that the case could set a precedent that allows the Justice Department to become "the ultimate arbiter of how public officials are behaving in America."
Justice Anthony Kennedy sounds similarly skeptical.
"You're telling the senators, the officials who are having a lunch, 'Don't worry. A jury has to be convinced beyond a reasonable doubt and that's tough.' That's your answer?" Kennedy said.
Chief Justice John Roberts went so far as to suggest that the corruption statute as written is so vague that it may need to be struck down.
"Given the difficulty that we're having in settling on what these words in the statute mean, there is an argument … that the statute is unconstitutionally vague," Roberts said.