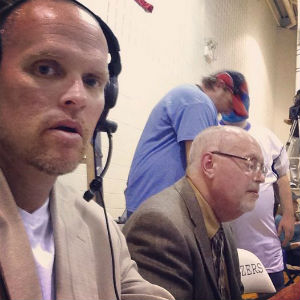 I only had the fortune of working with Coach Bill Phipps once, and never got to hear the result.
Phipps and I were brought on to do commentary for a local indy pro wrestling show a couple of years ago. The idea of the promoter, a mutual friend, was to make a DVD of the live event, held at Spotswood High School, for later distribution.
The later distribution, as far as I know, never materialized. But that night, Coach Bill and I were Gordon Solie and Jesse "The Body" Ventura.
At least that was our goal. Phipps, whom I'd met before, but never really had a chance to talk to, more than say hi, and exchange pleasantries, as we crossed paths covering sports in the Valley over the years, became fast friends that summer night.
Coach Bill, battling brain cancer again, was on the mend from his first bout with the cancer that night. He had just gotten back to work after chemo back when we got together at ringside a few hours before the opening bell.
Phipps mentioned having been a wrestling fan all his life, and how he wanted to play the Gordon Solie role on our commentary. I came up with my poor man's Jesse "The Body" gimmick on the fly, adjusting a bit to play off my real-life role as a print journalist, constantly playing off his indictments of the heels for their rulebreaking with backstage news from my confidential "sources" who could explain everything they were doing.
The taping went late, starting around 7 p.m. and wrapping up just before 11 p.m. Coach Bill, still just getting his feet under him, didn't miss a beat.
I felt like I was working with the real life Gordon Solie, a Hall of Fame wrestling play-by-play commentator, trading barbs with Phipps, who was ever the pro in deflecting my heel announcer nonsense.
We left that night with the hope that the promoters would book future shows, and that we'd get to work together again, and build on our first show together as an announce team.
It was not to be. The indy wrestling business is not an easy one, and we never got the call back to work commentary together again.
Bill and I are friends on Facebook, but aside from the occasional comments on each other's social media, I haven't had a chance to interact with him since that fun night at ringside.
I know only know a tiny bit about the legendary Coach Bill who has been the voice of Bridgewater College athletics and high school sports up and down the Valley for two decades, but for a few hours I had the privilege of being the man's broadcast partner, and something I will never forget is his the easy professionalism with which he carried himself with the headphones on.
He is most at home with a live mic and people listening, and I'm honored to have had the chance to share a broadcast with him.
Thanks, Coach Bill. My "sources" tell me that they might need us to call a match at the next WrestleMania, so let's touch base soon.
Column by Chris Graham