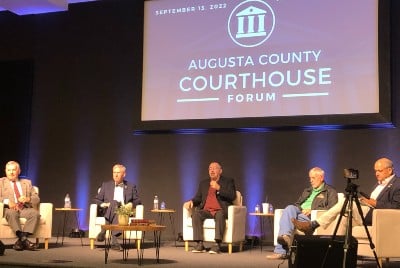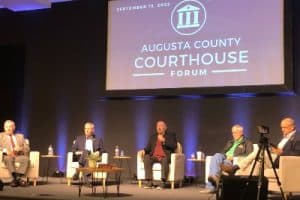 The decision to build a new courthouse in Augusta County has been made for voters, but on Nov. 8 voters will decide where.
A forum about the new courthouse was held at Victory Worship Center in Staunton on Sept. 15 to discuss two locations: Verona or downtown Staunton. The cost for a courthouse in Verona would be $80 million and in Staunton would be nearly $104 million.
"Tonight is designed to be informative," said Victory Worship Center Founder and Lead Pastor Ray Eppard, who mediated the forum. "Our panel has been involved with what has been decided throughout this process and by that they understand the issues."
He asked participants to explain how the county got to the referendum vote after a vote on the issue six years ago.
"There is a court order from the State Supreme Court that we will build a courthouse," said Augusta County Board of Supervisors Chair Gerald Garber. "There is no decision to be made. They made it for you. You will build a new courthouse."
Del. John Avoli of Staunton, who served as mayor of the Queen City for many years in the 1990s, said the choice between Verona and downtown Staunton was why he was moved to vote for the referendum.
Del. Chris Runion said: "It is your courthouse." He said Virginia is the only state that has cities which are separate from surrounding counties. However, from Colonial America times, the county's courthouse has always been in municipal downtown Staunton.
"It's Augusta County's decision, because that's who is getting to pay for it," Runion said.
Augusta County Clerk of the Circuit Court Steve Landes said that the courthouse in downtown Staunton has been on county property since at least 1745.
"The only site that's possible to build on downtown that the county owns is the site [with the current courthouse]," Landes said.
Eppard asked about the construction timeline for the new courthouse.
Avoli said a minimum of three years from start to finish, and the timeline begins Jan. 1, 2023.
"Certainly, one of my goals is to live to see it," Garber said.
Building the new courthouse in downtown Staunton would first require demolition of the existing courthouse at the corner of West Johnson and South Augusta streets. According to Garber, demolition would add 18-24 months to the construction timeline.
Augusta County Administrator Tim Fitzgerald said if built in Verona, the courthouse would open on Sept. 1, 2025. If built in Staunton, the new courthouse would be ready May 1, 2027.
Eppard asked about the disruption construction downtown would have on downtown businesses.
"The difficulty with the downtown site is that fact that it's downtown," said Landes, whose office is in downtown.
He said that downtown businesses will experience disruption if the courthouse is built downtown. Parking is already a challenge, and construction would also affect parking for businesses, county and city employees and visitors.
On the topic of property rights, Garber said that options besides Staunton or Verona are not options in the situation of building a new courthouse.
Landes agreed that the county is limited in where it can build. The county courthouse must remain in the footprint of the circuit court building.
Avoli said that cities and counties are limited when it comes to building courthouses.
"I think a function of what may happen is going to be a lot better than now," Avoli said.
Runion said that he and his colleagues do not want to waste county or city resources.
Avoli said a similar situation came up between Waynesboro and Staunton years ago regarding the King's Daughters Hospital. The two cities agreed to close the hospitals in Waynesboro and Staunton.
"A consolidated joint effort is better than what we have today," Avoli said of the new courthouse.
Runion applauded the county for using the same building for 121 years, and making services accessible at the least cost to taxpayers.
"I am really proud of Augusta County in how you all physically manage," Runion said. What's difficult about a new courthouse, he said, is the emotion around possibly moving it to Verona. "It's been downtown for all those years. We've never known anything different."
"The county has outgrown the facilities that we have right now," Landes said. Criminal and civil cases are increasing and the county needs larger facilities to accommodate increasing demand. He said he supports building in Verona, "because it allows for future growth for the county."
If voters decide Staunton is where they want to build their new courthouse, Landes said the courthouse would be good for 20 years, then the county would outgrow the facilities again. Verona is also a good choice because it would allow for more parking options for staff and visitors.
"That will allow us that opportunity to serve you better, and more efficiently and more effectively into the future," Landes said of Verona.
If built in Verona, Avoli said that the Augusta County Sheriff's Office would not have as far to transport prisoners for court cases, and would also allow for growth and development. Avoli said that individuals going to court are not spending money eating out or shopping downtown. They are interested in going to court, then leaving downtown.
"The brick and mortar is not going to move. What's going to move is the function," Avoli said.
Garber said negotiations continue with organizations regarding the 1901 courthouse and finding ways to repurpose.
"If you have a business in downtown Staunton, you better pray this renovation doesn't occur downtown, because you will not recover in 10 years what the next four years will cost you," Garber said.
"Augusta County did everything they could to get you in the best position that is possible," Runion said.
Eppard asked about the cost difference six years later, which is now affected by high inflation in the United States.
"The cost of everything is up significantly," Garber said. "There is a price for democracy."
The next forum about the new county courthouse will be held Thursday, Sept. 22, at the Augusta County Government Center in Verona.