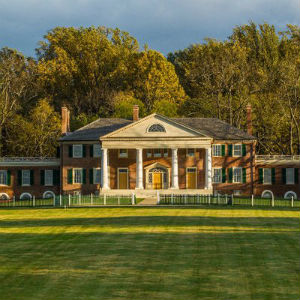 Nearly 50 of the nation's leading academics, public historians, and descendant community advocates convened at James Madison's Montpelier this weekend (February 9-11) to develop new guidelines for how cultural institutions and historic sites teach and interpret slavery by successfully engaging descendant communities.
The National Summit on Teaching Slavery, a partnership between James Madison's Montpelier and the National Trust for Historic Preservation's African American Cultural Heritage Action Fund, is the first national, interdisciplinary effort to formulate a recognized model for best practices in descendant engagement. The conference builds on the successful model of descendant engagement – rooted in best practices for historical research, community dialogue, exhibition design, and historic preservation – implemented during the creation of Montpelier's new slavery exhibition, The Mere Distinction of Colour.
"I don't think you can understand the country today if you don't understand the legacies of slavery and how they have shaped our understanding of rights, freedoms, and opportunities," said Montpelier President & CEO Kat Imhoff. "At Montpelier, our job is to connect the past to the present in a way that helps people engage with important issues, so we are excited to be one of the first initiatives supported by the Action Fund to support the National Trust's larger effort to change the way the country sees its African American heritage and history."
Leading scholars like Harvard University's Evelyn Higginbotham, Ohio State University's Hasan Kwame Jeffries, and William & Mary's Michael Blakey will interact with leaders from important public institutions like Southern Poverty Law Center, Mount Vernon, Monticello, Whitney Plantation, and the National Civil Rights Museum, Memphis, in addition to descendants community representatives from sites across the South. The three-day workshop seeks to create best practices for engaging descendant communities in crucial aspects of slavery interpretation.
"Public and higher education institutions often struggle with how they document and interpret African American historic sites and the histories they keep," said NTHP African American Cultural Heritage Action Fund Director Brent Leggs. "One of our goals through the Action Fund is to foster a national dialogue about best practices and methodologies that creates new approaches to understand our nation's Black history and cultural heritage."
The weekend-long summit dealt with many issues important to honest and equitable approaches to teaching slavery and engaging descendant communities, including: definitions and rights of descendant communities; understanding the lasting legacies of slavery; creating community engagement and outreach models; new approaches to genealogical research; and portraying the emotional realities facing enslaved people.
"The weekend was an important step in our field," said Michael Blakey, National Endowment for the Humanities Professor of Anthropology at The College of William & Mary, who is also a member of Montpelier's descendant community. "Including descendants in discussions of slavery interpretation doesn't make them less scientific. In fact, it offers news perspectives, more accountability, and a path forward for assuring that African American history is not a sidebar of American history."
The outcome of the Summit will be released to the public during Montpelier's annual Juneteenth celebration later this year.