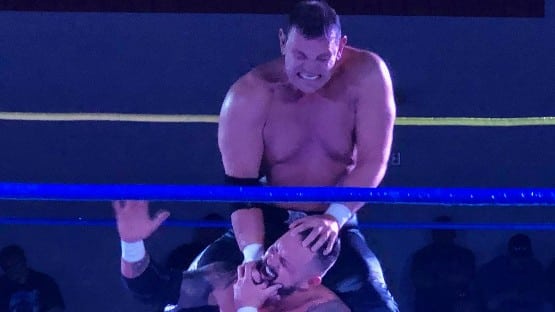 The fans of professional wrestling turn their attention to the WWE's two-day Wrestlemania 39 at the SoFi Stadium in Inglewood, Calif., but fans in the Valley got a bonus slobberknocker of a show as well Saturday night.
Mid-Atlantic Territory Wrestling (MATW) began its debut tour in Elkton at East Rockingham High School on April 1, and for fans of old school wrestling, there was no fooling about on this April Fool's Day show. MATW proclaims as its goal providing a quality, family friendly alternative to modern day sports entertainment, and this show delivered.
The card started with bout featuring a classic wrestling trope as the "Syrian Assassin," Vaziri Hassan, accompanied to the ring by his manager, Sheik Salazar, faced the US flag-waving, camouflage and flack jacket wearing Code Name FLX. Inciting chants of "USA, USA," the all-American babyface controlled most of the match until skullduggery in the form of outside interference by the Sheik led to Hassan picking up the pinfall. Code Name FLX was immediately saved from a post-match beatdown by the charismatic Ace Montana, who cleared the ring of the villains.
Later in the night, Ace, channeling the late, great Dusty Rhodes, delighted the fans by going over in his own match over the acrobatic Playboy.
This reviewer's favorite match of the night saw the gladiatorial guardian Anthony Athens defeat the towering Ivan Ali in an action-packed match before intermission.
Fans of tag team action were also well served by the night's card as the Extreme Horseman of CW Anderson and Preston Quinn outlasted the behemoth Geordi Bulldogs, and the Taar Dynasty dazzled dominating their luckless single opponent whose partner did not show to aid him (it was claimed the Taar Dynasty sabotaged his transportation to gain the advantage).
The main event saw a hard-hitting match with several bone-rattling out of the ring bumps in which crowd favorite Brandon Day defeated the diabolical Dougie Delicious.
MATW put on a very solid debut show. The ring shook from power moves such as suplexes, bodyslams and several top rope maneuvers, the ring psychology of the ring performers incited excitement or heat from the crowd, and the athleticism of the wrestlers was on full display.
Compelling storylines were put into place which will no doubt be explored further in planned upcoming shows throughout the Mid-Atlantic territory including a return to Elkton on May 13.  The planned return brings to mind the famous question from wrestling legend Hulk Hogan: "Whatcha gonna do?" If you love old school professional wrestling the answer, I would recommend is "go see some MATW shows if you can!"