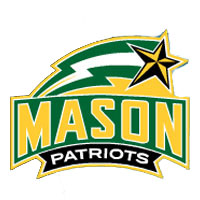 Redshirt sophomore Sherrod Wright scored a season-high 22 points, two off his career best, as the George Mason men's basketball team held off a pesky Towson squad, 72-60, on Saturday afternoon at the Patriot Center.
Mason improved to 15-5 and 7-1 in Colonial Athletic Association play as the Patriots maintained at least a share of first place, while the Tigers dropped to 0-20 overall and 0-8 in conference play.
Wright was the lone Patriot in double-figure scoring, while three Tigers reached the mark led by 19 from Marcus Damas. Towson controlled the boards, owning a 45-34 rebounding advantage, but the Patriots won the shooting stat with a 45.5 percent clip from the field, compared to 37.1 percent field goal shooting by the Tigers.
Mason led by 13 points with less than eight minutes remaining, but the Tigers fought back to within five points at 63-58 and 2:17 left in the contest. Sparked by a 3-pointer by Wright at the 1:35 mark, the Patriots were able to get their lead back into double figures and hold off the Tigers.
Towson grabbed a 6-5 lead early on, but the Patriots pushed the margin to 16-6 with 11 unanswered points, keeping the Tigers off the board for nearly three and a half minutes. It was part of a larger 16-4 run that moved the Mason lead to 21-10 eight minutes into the contest.
The Tigers cut it to four at 26-22 with under six minutes left to play in the opening half thanks to an 8-0 run, but the Patriots answered with three baskets in the next 70 seconds to put the margin back to double digits. It was part of a larger 18-5 run with which Mason closed out the first half. The Tigers were limited to just one field goal in the final four minutes, while the Patriots scored seven unanswered before halftime, including a jumper by Gray at the buzzer which set the halftime score of 44-27.
Mason shot 53.3 percent from the field in the first half (16-30), compared to a 33.3 percent mark for Towson (11-33), with both teams turning the ball over 11 times in the first half. Wright was the Patriots' high scorer in the first half with eight points, while Nwankwo contributed 12 to lead all scorers in the frame.
Into the second half, the Patriots pushed their lead as large as 19, before a 10-0 run mounted by the Tigers left the score 49-41 inside of 13 minutes remaining. They would get even closer, using an 8-0 run to cut the Mason lead to 58-53 with just over five minutes showing on the clock, as well as the final push.
The Patriots are right back at it on Monday night, hosting UNC Wilmington at 9 p.m. in a game broadcast on MASN.