U.S. Sen. Mark Warner (D-Va.), a member of the Senate Banking, Housing and Urban Affairs Committee, released the following statement today after Fannie Mae reported earnings of $8.7 billion and Freddie Mac reported $30.4 billion in profits in the third quarter.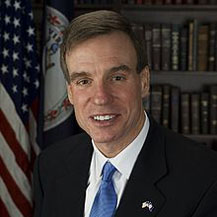 "Taxpayers propped-up Fannie and Freddie with a nearly $190 billion bailout in 2009, and while I'm pleased to see these GSEs returning to profitability and repaying the Treasury, we need to continue moving forward  on commonsense reforms," Sen. Warner said. "Our bipartisan reform legislation protects taxpayers during future economic downturns, while also responsibly preserving the availability of the 30-year fixed-rate mortgage for homebuyers. Today's news reinforces the need to apply responsible reforms to restructure Fannie and Freddie and the broader mortgage market.""
In June, Sens. Warner and Bob Corker (R-Tenn.), and a bipartisan group of senators introduced S. 1217, the "Housing Finance Reform and Taxpayer Protection Act" to strengthen America's housing finance system by replacing Fannie Mae and Freddie Mac with a streamlined, privately-capitalized system that preserves market liquidity and protects taxpayers. from bailouts during any future economic downturns. S. 1217 currently is cosponsored by Sens. Mike Johanns, R-Neb., Jon Tester, D-Mont., Dean Heller, R-Nev., Heidi Heitkamp, D-N.D., Jerry Moran, R-Kan., Kay Hagan, D-N.C., Mark Kirk, R-Ill., Joe Manchin, D-W.V., and Saxby Chambliss, R-Ga., which includes five Republicans and five Democrats from the Senate Banking Committee.