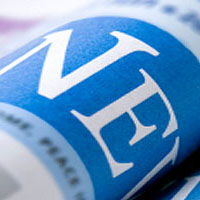 Augusta County Fire and Rescue has achieved the 2014 Mission: Lifeline EMS Silver Recognition Award and the Staunton-Augusta Rescue Squad and Waynesboro First Aid Crew have achieved the 2014 Mission:  Lifeline EMS Bronze Recognition Award from the American Heart Association.  The awards recognize each squad's commitment and success in implementing specific quality improvement measures for the treatment of patients who have a severe heart attack known as a STEMI (ST Elevation Myocardial Infarction).  Augusta Health's Chest Pain Accreditation Committee submitted recognition applications on behalf of all three squads.
"Collaboration between the pre-hospital and hospital providers is the essence of Mission: Lifeline.  The EMS providers are a vital part of the care we can provide to those with heart attacks.  The tools and training they use to rapidly identify the STEMI and notify our Emergency Room help us be prepared and waiting as the patient reaches our doors.  This has improved the care and resulted in more positive outcomes for those patients.  We are honored to work with these excellent EMS crews and are excited that their excellent work has been nationally recognized," said Donna Hurst, RN, BSN, CEN, Clinical Coordinator in Augusta Health's Emergency Department and Chest Pain Accreditation Committee Chair.
The American Heart Association's Mission: Lifeline program helps hospitals and emergency medical services develop systems of care that follow proven standards and procedures for STEMI patients.  The program works by mobilizing teams across the continuum of care to implement American Heart Association/American College of Cardiology clinical treatment guidelines.
Augusta Health is an independent, nonprofit community hospital whose mission is to promote the health and well-being of our community through access to excellent care.  Named one of the 100 Top Hospitals in America by Thomson Reuters in both 2011 and 2012, Augusta Health also has been nationally recognized by HealthGrades as one of America's 100 Best Hospitals for clinical excellence and patient safety for the last three consecutive years.  For more information about Augusta Health, its programs or its services, please contact public relations at 540.245.7329 or 540.221.7329, or visit our website, www.augustahealth.com.