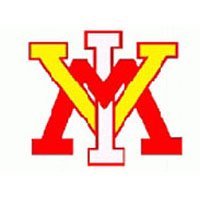 Junior linebacker Caleb Lindsey had six tackles, a tackle for safety, a sack, and a fumble recovery to highlight VMI's defense in the second scrimmage held on a rainy Monday afternoon at Foster Stadium.
Lindsey, projected to start at will in one of the two insider linebacker positions, made his presence felt early in the scrimmage he produced a seven-yard sack on the third play of the opening possession. He later turned in two stellar plays with a fumble recovery and return of over 40 yards. Late in the scrimmage, Lindsey helped wrap up a ball carrier in the end zone to produce a safety.
Other standout defensive performances included outside linebacker Chris Copeland who snagged a tipped pass from defensive tackle John Washington to stop one drive and redshirt junior defensive back Brendon Bock who picked off a pass in the end zone on the last play of the scrimmage.
Junior cornerback Doug Moore registered five tackles on the day while redshirt senior Logan Staib and freshman linebacker Allen Cratsenburg each added sacks. The defensive units combined for six pass breakups.
The defense set the tone early that carried throughout the afternoon with the exception of a spurt midway in the scrimmage when VMI quarterbacks completed 11 straight passes to produce two scores.
Redshirt freshman Al Cobb completed 11 of 20 passes with a touchdown and interception while redshirt sophomore Hayden Alford connected on seven of 14 passes for 89 yards and two touchdowns with one pick.
Sophomore wide receiver Aaron Sanders, a top performer in last Tuesday's debut scrimmage with a pair of touchdown grabs, added two more TD scores with receptions of seven and 11 yards from Alford. Cobb connected with freshman wide receiver Brice Tucker for a 17-yard touchdown pass.
Sophomore wide receiver Matthew Nicholson had a busy day with seven receptions for 63 yards including a 24-yarder. Senior running back Deon Watts led all ground gainers with seven carries for 52 yards.
Sophomore placekicker Dillon Christopher was 2 of 4 in field goal tries with makes of 45 and 37 yards.
The preseason practice schedule continues with a practice Tuesday at 4:30 at Fiorini Field.
VMI opens up the 2014 season August 30 at Bucknell at 6 pm.