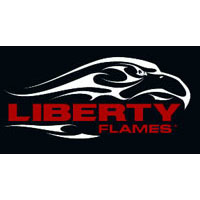 Following the program's first-ever NCAA FCS Playoff appearance and victory, Liberty has finished the season ranked No. 17 in the final Sports Network and FCS Coaches polls.
Both organizations released their final FCS top 25 listings of the year earlier today, following the conclusion of NCAA FCS schedule. On Saturday, North Dakota State rallied for a 29-27 victory over Illinois State in the NCAA FCS National Championship, giving the Bison their fourth-straight national title.
North Dakota State was a unanimous No. 1 in both polls, followed by national running-up Illinois State at No. 2, new hampshire at No. 3, Eastern Washington at No. 4 and Coastal Carolina at No. 5.
JMU (9-4) was ranked #19 in the final poll.
The No. 17 national ranking is the highest year-ending ranking for the Flames since 2008. Following a program-record 10-2 season, Liberty finished the 2008 season ranked No. 14 in the final Sports Network and No. 15 in the last FCS Coaches poll.
The No. 17 national ranking is the first year-ending ranking for the Flames in three seasons under Head Coach Turner Gill.
The last time Liberty finished the year with a national ranking was in 2011 when the Flames (7-4, 5-1 Big South) were ranked No. 25 in both the Sports Network and FCS Coaches final polls.
Gill led the Flames to a 9-5 overall record and a 4-1 mark in Big South play this season. Liberty captured its seventh Big South title in the last eight years and Gill's third-straight title since coming to Liberty Mountain.
The Flames wrapped up the regular season with a thrilling 15-14 victory over then No. 2/1 Coastal Carolina. The victory over Liberty's Big South rival secured another Flames' conference title and the league's automatic bid to the NCAA FCS Playoffs for the first time in program history.
During its first-ever postseason game, Liberty upended No. 15/15 James Madison, 26-21, thanks in part to a strong second half defensive effort and a 17-play, fourth quarter scoring drive.