Tre' Harris has already signed with Kansas State, so it's not like Bruce Weber needed to do any selling on the Fishburne Military School combo guard.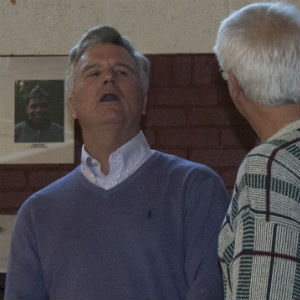 But Weber was in Waynesboro just the same on Saturday to see Harris (6'5, 180, Glen Carbon, Ill.) score 13 points to help the second-ranked Caissons postgrad basketball team to a 76-63 win over Kiski School (Pa.) in the FMS Best Western Caisson Shootout.
Weber, in his second year at K State after a nine-year run at Illinois that included an appearance in the 2005 national-championship game, is no stranger to Waynesboro.
"I've been here four times in the past year. This is a good tournament. Coach Huckaby does a good job here," Weber said.
Weber attended the 2013 FMS Best Western Caisson Shootout, then was on campus this fall while recruiting Harris, who signed his National Letter of Intent with Kansas State last month.
The coach was in Waynesboro after taking in a game in Northern Virginia last night. Kansas State played Mississippi at home on Thursday, winning 61-58 to improve to 5-3 on the season.
Weber's first season in Manhattan, Kan., saw him named the Big 12 Coach of the Year after leading the Wildcats to a 27-8 finish and the regular season Big 12 championship.
The 'Cats roster has some significant holes to fill, though, with last year's starting point guard, Angel Rodriguez, among three players from the team to transfer, and two recruits in the Class of 2013 having been lost to academic-eligibility issues.
Weber liked what he saw out of Harris on Saturday against Kiski. After a quiet first half, Harris ignited the 13-0 run that helped Fishburne put away Kiski with seven straight points on a pair of runners in the lane and a three-pointer from the wing.
"His number-one attribute is his shooting and his ability to shoot, especially the three-ball. In this day and age, it's a positive thing when you can get a kid who can shoot," Weber said of Harris, who Weber praised for "making a decision to come here and get stronger, get tougher, more mature and improve his game, and with Coach Huckaby, you've got to do that, or you're not going to make it here."
"Being here, you can see his improvement. His upper body strength has improved, and he seems to be advancing his game. We're happy to have him," Weber said.
Harris got to meet briefly with Weber after the game.
"It's good to see Coach Weber," Harris said. "He's a great guy. He made the trip out here to see me. We got the W as a team. I'm glad he got to see it."
Harris said it "meant a lot" to have his college coach in town.
"It shows he wants to see how I'm progressing, that he wants to check up on me to see how I'm doing. I'm honored that he wanted to come out today," Harris said.
More online at www.FishburnePGBasketball.org.