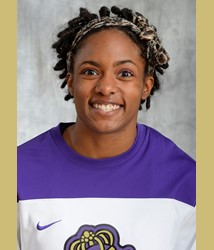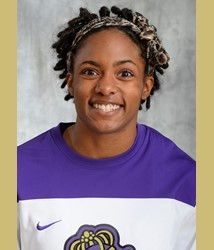 JMU junior point guard Angela Mickens has been named to the Nancy Lieberman Award Watch List by the Naismith Memorial Basketball Hall of Fame, the organization announced Friday.
"I'm extremely proud of Muff [Angela Mickens] and very excited for her to get this acknowledgement," Head CoachKenny Brooks said. "Looking from where we've come together as coach and point guard and her as a player – this is recognition of that. I think she's very deserving of this acknowledgement, and hopefully she'll continue to stay on the list as it gets cut down. I think she's definitely proven she's one of the best point guards in the country. She's our motor, she really gets us going and I'm proud of her."
The honor recognizes the top point guard in women's NCAA Division I college basketball. The initial watch list includes the top 31 point guards of 2014-15.
Mickens currently ranks fourth nationally in assists per game (7.6) and 14th in assist-to-turnover ratio (2.62). She has dished out 152 assists this season, 11th most in JMU history, to push her career total to 344 assists, also 11th most in JMU history.
This season, Mickens has tallied double-digit assists four times, just the third Duke in program history to do so in a single season. She has assisted on approximately 36.3 percent of her teammates' field goals while on the floor.
Mickens leads the Dukes in minutes played in 2014-15, spending 35.2 minutes on the floor per contest. She is contributing 7.5 points per game and 3.7 rebounds per game alongside a team-high 2.1 steals per game and 7.6 assists per game.
The Selection Committee for the Nancy Lieberman Award is composed of top women's college basketball personnel including media members, head coaches, sports information directors and Hall of Famers. The watch list will be narrowed down to 15 and then five players by mid-March. The winner will be presented with the award at the WBCA Award Show in Tampa, Fla., at the Women's Final Four.
Full Watch List: http://www.pointguard.org/watch_list.html