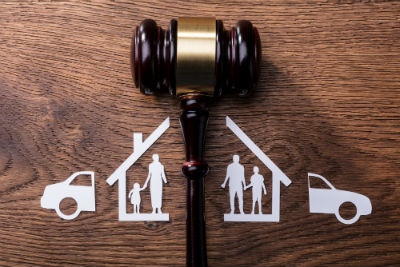 Editor's Note: Names and photographs of the children were removed at the request of the Montgomery County, Maryland, Department of Health and Human Services, the court-appointed legal guardian for the minor children.
Jennifer Lubin admittedly made some mistakes in her life. She's struggled with her mental health – and turned to drugs when life got tough.
When her daughter was removed from her home due to her drug use, she set out on a path to get her life straight – and had a short relapse after the birth of her son. Since then, now more than three years, Lubin has been clean. She was willing to do whatever it took to get custody of her children again.
However, it didn't turn out to be that simple for Lubin. While she was getting court-ordered treatment for her drug use, her parental rights were terminated.
Her mother was also deemed to be "unfit" to raise the children – in part, she believes, because of her age.
The two children were eventually placed in foster care right here in Waynesboro.
Since Jennifer got out of treatment, her mother, Linda, and her, have fought to get the children back where they belong, with their birth mother and grandmother. The two children, R– and A–, are the only grandchildren for Linda.
At first, Jennifer and Linda stayed in touch with the kids, making a visit about halfway at a park or connecting via Zoom when that proved too difficult for the foster family. But eventually, they were told that the visits were causing too much stress on the children, and they stopped abruptly. Jennifer didn't get to say goodbye to her children. The grandmother didn't get to give them one more hug. Their grandfather, battling dementia, may be gone before the matter is resolved in the courts. Gifts sent to the children were returned.
Linda has worked tirelessly since her grandchildren were moved to another state … writing legislators and media organizations – trying to get their story out in hopes that it would somehow bring her granddaughter and grandson back home.
R– Todd is named after Jennifer's younger brother, Todd, who passed away in 2007. A– Gale, her son, is named after her aunt, Gail, who died from cancer when Jennifer was pregnant with him.
For so long, Jennifer and Linda have fought to get someone to listen to the injustice that has happened to their family. It's hard being told that the decision to never see her children again is final. That is not an answer they are willing to accept.
Sharing their story in AFP "gives us hope," Jennifer said.
Jennifer has rehabilitated herself – working in a treatment facility and volunteering with local children. She has her own home now. The father of her children has also been deemed "unfit" though he has been clean for two years, works three jobs, two of which are in treatment facilities. He runs a sober house and shares his story with middle and high school students in Montgomery County to encourage them to lead a good life.
Jennifer doesn't understand how it's possible to keep their family apart when both parents are doing so well now.
While 22 states have passed a law allowing a reversal of termination of parental rights, Maryland is not one of them.
"It's almost like the better we do, the worse it gets in regards to ever having a relationship with our children," Jennifer told AFP.
No matter what the courts ultimately decide, Jennifer won't give up. Her mother won't give up either. One day, she hopes to be reunited with her children. And she will fight to stay on the right path despite all the heartbreak that has happened to her family.
"One day, my children will know the whole story. I just wish they knew how much we love and miss them."
Column by Crystal Abbe Graham
Related story
'Not forgotten': Birth mother, grandmother fight for parental rights for two children