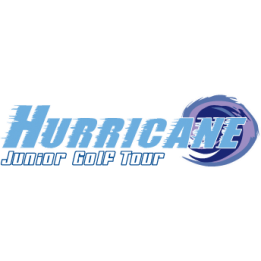 The Hurricane Junior Golf Tour traveled to Charlottesville May 30-31 for The College Prep Series at UVA. Saturday's opening round began at 12:30 PM under sunny skies and warm temperatures. Sunday's forecast was less than desirable with lightning moving into the area and remaining for nearly two hours delaying the start to the final round. Sunday's final round was eventually moved to a split tee start with players completing a nine hole stipulated round. The Birdwood Golf Course at The University of Virginia was in great shape ready to challenge players over both days. Trophy winners in all divisions received an invitation to the 2015 Mid-Season Invitational and winners additionally received an invitation to the 2015 HJGT National Championship. Additionally, the top ten finishers in each division received points towards year end honors which include state teams, ALL HJGT teams and the Hurricane Cup.
On Saturday Jake Miles of Spotsylvania, VA would get off to a fast start with a birdie on the difficult par 3 4th hole and another birdie on 10 to grab the early lead in the Boys 15-18 Division. Miles would finish the day with a one over par round of 73 and sit just three strokes ahead of Atlee Hanger and four strokes ahead of Brett Loy and Ian Buchanan. On Sunday officials blew the horn at 12:28pm due to lightning in the area just minutes before the start of the round. After nearly a two hour delay groups were sent off and again brought in due to lightning within 10 miles of The Birdwood Golf Course. With daylight closing in the final round was announced as a nine hole stipulated round. Miles would hold onto his lead for the majority of the round after Brett Loy would creep closer with pars on his first seven holes on Sunday. A bogey on the par 3 8th hole by Loy and a birdie on the 9th hole would allow Miles to claim a three shot win on Sunday. Loy (114) would finish in second place while Joseph Allen of Louisville, KY and Ian Buchanan would both tie for third place with a 27 hole total of 116. TJ Repczynski would lead in the most birdies made over the weekend with four total. Joseph Allen would lead in par 5 scoring over the weekend averaging 4.7 shots. This weekend marks the first win of Miles for the 2015 season after two previous appearances.
The Girls 15-18 Division featured a very tight leaderboard over the weekend at UVA. Katie Muscatello would grab the lead after Saturday's opening round. Muscatello would finish Saturday's round with an 86, four shots clear of Sky Sload and Lexi Clark. Sload would make an early move on Sunday with a birdie on her opening hole while Muscatello made par. The two players battled back and forth on Sunday for nine holes, but it would be Muscatello who would come out on top by one shot over Sload. Muscatello would finish with a 27 hole total of 130 while Sload would finish just one stroke behind (131) and Lexi Clark would round out the trophy winners with a 136 27 hole total. Muscatello would lead in par 4 scoring averaging 4.9 strokes over the weekend. Bella Bettino and Katie Muscatello would both tie in the most pars made over the weekend with 12. Even more impressive was this was Muscatello's first win in her first ever HJGT event. Congratulations to Katie on picking up her first win of 2015!
Zach Brown would lead wire to wire to claim the Boys 13-14 Division title in the Boys 13-14 Division. Brown would come out firing on all cylinders on Saturday making birdies on his first two holes. Brown would also add birdies on the 10th and 17th holes for an impressive one under par round of 71. Brown would use his long distance off the tee and strong putting to enable himself to finish with the low round of the weekend. Arguably the shot of the weekend came from Brown on Saturday when he nearly drove the par 4 13th hole playing 373 yards over water. Brown would challenge the water and carry the ball nearly 300 yards to the green. Brown would hold a seven shot lead entering Sunday's final round. On Sunday Akshay Bhatia would come out and post the low round with a one under par round of 35 to challenge Brown's lead. Brown would struggle coming down the closing holes on Sunday, but would comfortably come away with a two shot win in the division. Brown would finish with an impressive 27 hole total of 113 followed by Bhatia (115) and Nikita Gubenko (117) to round out the trophy winners.
Weather:
Day 1- Low 68. High 85. Sunny skies. Wind 10-15mph
Day 2- Low 66. High 88. Partly sunny skies, thunder and lightning. Wind 10-20mph
Tournament Yardages:
Boys 15-18-6,846 yards
Boys 13-14-6,167 yards
Girls 15-18-5,627 yards
About us: The Hurricane Junior Golf Tour (HJGT) was founded in 2008 with the intent of providing junior golfers between the ages of 11-18 an opportunity to play exceptional courses in a competitive environment. Golfers who participate on the tour will compete in one of four age divisions: Boys 15-18, Boys 13-14, Boys 11-12, Girls 15-18, and Girls 11-14. Based out of Jacksonville, FL, the HJGT administers events all across the nation, with stops in Florida, Georgia, South Carolina, North Carolina, Alabama, Tennessee, Kentucky, Ohio, Virginia, Mississippi, Pennsylvania, Maryland, New York, New Jersey, Indiana, Illinois, Michigan, Mississippi, Louisiana, and Connecticut.
For more information regarding the 2014 HJGT Tour, please visit our website at www.hjgt.org, call the Hurricane Junior Golf Tour headquarters at (904) 379-2697, or email [email protected].