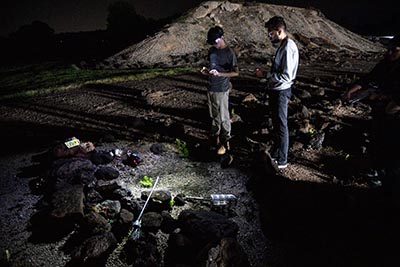 Virginia Tech's Hokienauts have touched back down from their on-site test week at NASA Johnson Space Center in Houston, Texas, where they had the opportunity to pitch their spacesuit designs to experts in the field.
The experts included astronaut Kate Rubins and extravehicular project manager Chris Hansen.
Now back in Blacksburg, team members have collected all their feedback and documentation into a final report for NASA. Using the input from experts in the field, they will continue to improve upon their designs and conduct additional testing.
This marks the third time that a Virginia Tech student team has been invited to participate as finalists in the NASA Spacesuit User Interface Technologies for Students challenge.
The Hokienauts were one of 10 university-based teams from across the country to demonstrate their augmented-reality solutions designed for use in spacesuits in a lunar analog environment.
"These innovations are critical as NASA plans toward a sustained lunar presence," said Brandon Hargis, NASA SUITS activity manager.
Engineers from NASA's extravehicular activity and joint augmented-reality teams served as design evaluators, testing student designs and providing them feedback.
"You learn from the people that are actually developing real technology that goes to space — people that have been doing this for many years," said Mithil Adsul, a recent computer engineering graduate who served as leader and team hardware engineer for the Hokienauts. "So you're getting real feedback that really matters."
Projects such as the NASA SUITS design challenge require a team of diverse individuals.
"Every other team I've been working on is engineering majors, so it was really cool to step outside that bound," Adsul said. "You can't solve any problem just by yourself, you need a multidisciplinary team."
In this challenge, graphic design students Natalie Kinnamon, Devina Bawa, and Lauren Sartori were tapped to create the visual elements such as buttons and menus, while software design students Burak Topo, Kien Tran, and Jasmine Walker worked behind the scenes.
Electrical engineering students Sabrina Lesser and Rafiul Kabir were responsible for developing the physical hardware that facilitated the digital components.
"Our goal was to develop an interface that could assist astronauts with accomplishing tasks on the lunar surface," Adsul said. "These tasks included navigation, bi-directional communication, displaying suit vitals like oxygen, controlling a lunar rover, identifying tools, and terrain sensing."
Another aspect of the challenge included designing software solutions for navigation and geology at the lunar south pole. The Johnson Space Center Rock Yard served as a nighttime testing site, simulating the lunar terrain with low-angle lighting similar to what astronauts would experience at the lunar south pole during Artemis missions.
Student teams were involved in completing a series of navigation and extravehicular activities at the Rock Yard. The team was able to achieve most of its goals, including the lunar rover control that served as the main emphasis of the Hokienauts' design.
The primary goal of Artemis is to return humans to the Moon, specifically the lunar south pole, by 2025.
Story by Grace Daniels, a student intern with the Department of Computer Science at Virginia Tech