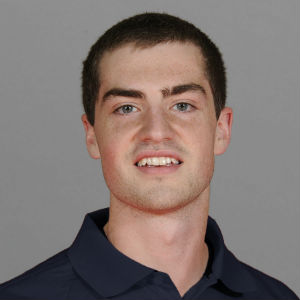 Cody Anderson, former student manager for the University of Georgia men's basketball program, joined the Longwood men's basketball staff as director of operations, head coach Jayson Gee announced Thursday.
In his director of basketball operations role at Longwood, Anderson will coordinate the program's travel operations, academic monitoring, scouting and film preparation and statistical analysis while overseeing quality control of the entire program.
"Cody is a modern day wiz kid," said Gee, who is entering his third season at Longwood. "He is extremely intelligent, detailed and brings energy to our DOB position. Coach Anderson was highly recommended by Georgia head coach Mike Fox after serving as a student assistant for four years. We're excited to add Cody to our Longwood family."
Anderson was a four-year student manager at the University of Georgia from 2011-15 where he assisted in compiling scouting reports on opponents, managed film exchange contracts and agreements, coordinated the Mark Fox Summer Basketball Camp and managed Georgia men's basketball's social media accounts.
"I am blessed and extremely honored to join coach Gee's staff and the Longwood family," Anderson said. "The opportunity to work for a man like Jayson Gee is truly a gift from God and one that I do not take lightly. I would also like to thank Coach Mark Fox and the entire staff at the University of Georgia for pouring into me their knowledge and expertise over the course of the last four years."
In addition to his managerial responsibilities at Georgia, Anderson also founded the Anderson Basketball Academy in Clarkesville, Ga., in the summer of 2013. The program provided coaching and individual skill workouts to students in Habersham County.
Anderson held several positions outside of Georgia's men's basketball program, including two summers as camp commissioner of the Shaka Smart Basketball Camp at Virginia Commonwealth University and three summers as commissioner of the Coach Z Basketball Camp at Emory University. In those positions, Anderson was charged with general oversight of the camps, execution of various camp functions and ensuring that camps provided the expected experience for each camper in a fun, instructive environment.
Anderson received his bachelor of science degree in mathematics education from Georgia in 2015.