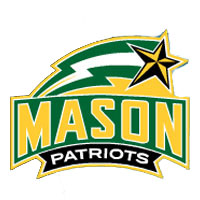 Junior Shevon Thompson set a single-game Puerto Rico Tip-Off record Friday night pulling down 19 rebounds in George Mason's loss to New Mexico. The previous record was 18 rebounds set in 2008 by John Garcia of Seton Hall and Taj Gibson of usc in the same game. Mason fell on day two of the Puerto Rico Tip-Off, 69-58.
Thompson dominated the second half with 17 points and 12 rebounds to finish the game with 21 points and 19 rebounds for his first double-double as a Patriot. Thompson pulled down 10 offensive rebounds to match the single-game PRTO record, shot 8-for-14 from the floor and 5-of-7 at the charity stripe, while picking up one steal and one block on the night. The last time a Mason player recorded 19 rebounds dates back to Kenny Sanders on March 6, 1989 against UNC Wilmington.
"Great effort by Shevon Thompson. He really sparked our energy," George Mason coach paul hewitt said. "If you saw him a year ago, you'd never dream that this kid could do what he's doing right now. He just keeps getting better because he has a great work ethic. I'm happy for him."
For the game, Mason shot 33.3 percent (18-54) and went 20-for-29 from the free throw line (69.0 percent) led by Trey Porter's 7-of-8 effort at the charity stripe. New Mexico shot 46.2 percent from the field led by Jordan Goodman with 19 points. Deshawn Delaney posted 16 points and a team-high eight rebounds as Mason won the rebounding battle, 38-36.
New Mexico's largest lead of the contest was 12 points, which it held on three occasions. The Patriots kept the game close through the opening minutes and took their first lead on a Patrick Holloway three-pointer at the13:13 mark. Holloway hit a jumper just inside the three-point line less than a minute later to give Mason its largest lead of the game, 12-9. The Lobos would answer with a 13-0 run and continued to push its lead out, breaking double-digits with a Delaney jumper for a 24-14 score with 3:53 left in the first half. New Mexico led at the break, 30-20.
Mason would cut the score down to five points jumping out with a 7-2 run out of the break. Hugh Greenwood snapped the run with a triple as the Lobos built their lead back out to 11 points and held a steady lead for the remainder of the game. Mason cut its deficit to eight, 66-58, on a Thompson layup with less than a minute to play, but New Mexico closed out the game going 3-for-4 at the charity stripe for the final 69-58 score.
George Mason will face College of Charleston on Sunday at 11:30 a.m. on ESPN3.