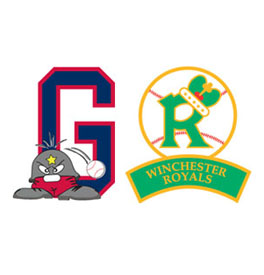 When Brandon Murray breaks out of a slump, he doesn't mess around.
"Not since I was 12 years old and playing on the little field," Murray said of the last three-homer game he'd had before Wednesday night's outburst that keyed a 14-1 win for Waynesboro over Winchester.
Murray (junior, College of Charleston) knocked in the first six of those runs with his three homers – a three-run shot in the first, a two-run home run in the second and a solo homer in the fifth.
Murray had two chances to tie the single-game Valley League home-run record of four, but came up short – singling in his second at-bat in the fifth, when the Generals sent 11 men to the plate and scored seven times to break the game open, and grounding out sharply to first in the seventh.
All told, Waynesboro had five homers on the night, after coming into the game having hit six all season long prior.
"Pitching with a lead is the most comforting thing for a pitcher," said Eric Stout (1-0), who scattered nine hits in seven innings, striking out seven and walking one.
Even with all the Winchester baserunners, Stout (freshman, Butler) was really never in trouble. Only two Royals reached third base, and Stout was aided by two double plays turned by the Generals infield.
But ultimately, the night was about Murray, who had come into the game hitting just .138 with a homer and two RBI.
"Just talking with coaches, we were talking about pitch tendencies, what pitchers were starting the guys off with, and just having a good approach at the plate and taking your best swing and seeing what happens. Luckily for me and a couple of my teammates, we squared some things up, and good things happened," Murray said.
Waynesboro (11-4) maintains a one-game lead in the South Division over Harrisonburg, an 8-2 winner at Haymarket on Wednesday.
The Generals host Woodstock (8-8) on Thursday at 7 p.m. at Kate Collins Field.
More at www.WaynesboroGenerals.net.